Below you'll find a list of Events on Waiheke Island. We've tried to list as many of the concerts, festivals, music evenings, shows, theatre, exhibitions and functions or things we think might be of interest.
COMING EVENTS 2014
WAIHEKE INTERNATIONAL JAZZ FESTIVAL 2014
EASTER 2014, April 18, 19, 20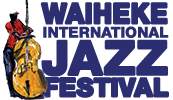 The Phoenix Foundation · Sola Rosa SS
Five Mile Town · Nairobi Trio · The Eastern
 Jan Hellriegel · Solid Brew (Germany)
George Washingmachine (Australia)
Kevin Mark Trail (UK) · Miho Wada (Japan)
Wellington City Shake-'Em-On-Downers
Sal Valentine & The Babyshakes
BlackSandDiva · Witnuss · Paul TT
Cousin Alice (UK) · In Transit
Harry Himself · Paul TT
Chelsea Prastiti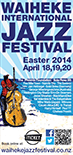 Download the Program, print it out, share it around. All the things you need to know about Waiheke International Jazz Festival 2014.
Jazz By the Sea, Saturday, March 8th, 5pm-8pm
Little Oneroa Beach, Free Entry
Dressed Up, Back Porch Blues – Saturday 22nd March, 7:30pm. 
Wellington based Laura Collins and the Back Porch Blues Band will be dishin' up some dressed up, back porch blues on Saturday 22nd March at the Rocky Bay Hall.
Mojo Risers Concert – Saturday 5th April, 12pm-4:30pm. 
Man O' War Vineyards is proud to present an afternoon at our beach front Tasting Room with special guests "The Mojo Risers".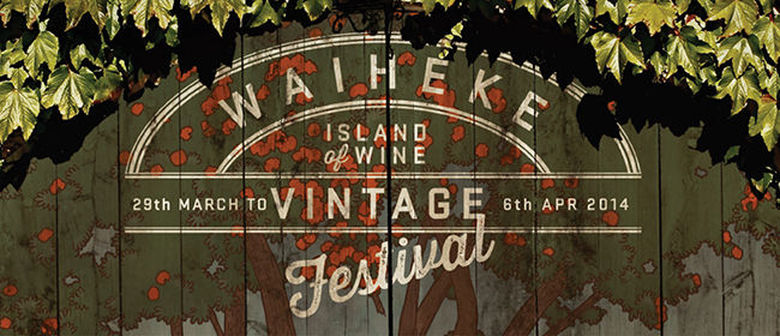 PAST EVENTS
November 2011
Vortex Tribe – The Rocks, Friday 18th November
Music promoter Graham Hooper will bring two bands to play inOstendthis week.  Friday night,USband Vortex Tribe will play from 8pm  before heading off on their tour ofNew Zealand.  Mr Hooper says when they played last year they "left the audience stunned and wanting more after their three hour performance."
Deborah Yates on flute combines classical, jazz and rock flute styles, alongside guitarist Jon Mulvey who goes from acoustic to Joe Satriani style Rock guitar.  They are joined by Isaac Ho on keyboards plus a drummer percussionist and a Kiwi bass man."  $15 for individual shows, from The Rocks, Ostend and Shop the Rock Oneroa.  Tickets cost $20 at the door.  A special limited edition weekend pass is a low $25 for both events (Friday & Sat night).  The Rocks, BelgiumStr, Ostend
The Christmas Story Exhibition – Waiheke Community Art Gallery, Oneroa, Friday 18th November
Exhibition Opening, The Christmas Story, Emma Wright and Kiya Nancarrow open at theWaihekeCommunityArtGallery, 6pm, Artworks, Oneroa.  Ph. 372 9907.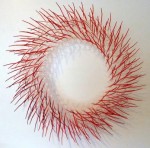 Pink Floyd Tribute – The Rocks, Saturday 19th November
Saturday night Pink Floyd Tribute band In The Pink will return after a three-year absence and faithfully reproduce the recorded sound effects during the three-and-a-half hour show.  $15 for individual shows, from The Rocks,Ostend and Shop the Rock Oneroa.  Tickets cost $20 at the door.  A special limited edition weekend pass is a low $25 for both events (Friday & Sat night).  The Rocks, BelgiumStr, Ostend
Ostend Market, Belgium Street, Ostend 8.30am – 2pm.
Waiheke Primary School Fair 2011 – Sunday 20th November
 Waiheke Primary School Fair, 10am – 3pm at the school onSeaview Road.  Meet Sponge Bob and friends at the Under the Sea themed fundraiser.
Live at Five – Whittakers Museum, Saturday 26th November
The next Live at Five concert at Whittaker's takes place at 5pm on November 26th and promises to be a very special event, say organisers.  For the sixth time, musicians from the Royal Overseas League will be performing at the museum.  Admission will be $25 with concessions available.  For tickets to the 5pm concert at Whittaker's Artworks, phone 372 9627.
NairobiTrio – Waiheke Olive and Artisan Food Festival, 26th & 27th November
Top New Zealandjazz band Nairobi Trio will headline at the Waiheke Olive and Artisan Food Festival at the end of the month.  The event on 26th & 27th November is planned as a celebration of Waiheke culture."  It will showcase some of the top extra virgin olive oils produced on Waiheke and also focus on a number of the island's top food producers.
The festival runs from 11am to 5pm on both days at Rangihoua Estate,Gordons Rd.  Entry will be $15 and children under 12 are free.
Waiheke's first Wedding & event Expo will be held at Cable Bay Vineyard on Saturday 5th and Sunday 6th November 2011.  The Expo is open from 10am – 5pm on both days.  The most comprehensive gathering of wedding and event businesses on Waiheke Island in one location.  Run over 2 days you'll have the chance to visit venues and talk in person to the businesses whom will be able to assist your with all your wedding or event needs.
Please contact Sophia on 022 33 26265 or Sophia@cocolilyevents.co.nz for more info and watch this space !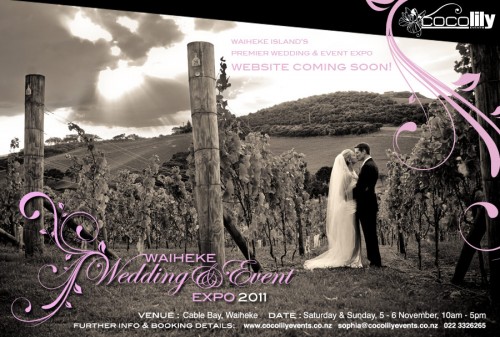 Jassy Dean Trust Garden Safari – 12th & 13th November
The Jassy Dean Trust, a registered charitable trust (CC 626226), has been supporting sick Waiheke children and their families since 1994.
In 2011 we are celebrating our eleventh Safari birthday where, once again, we will be showcasing some stunning gardens. This year the Safari will be held on the 12th and 13th of November. For more information about the Safari please click here.
October 2011
Dirt Track Racing Open Day, Sat 1st Oct
A chance to find out  everything you wanted to know about dirt track racing is coming up this Saturday 1 October at the Waiheke Dirt Track Club inO'Brien Road,RockyBay.  The club is holding an open day.
Waiheke Playgroup Spring Fair, Sunday 2nd October 10am – 2pm
Spring Fair, Old Blackpool School Hall, Sunday 2nd October from 10am – 2pm.  Jumble sale, sausage sizzle, Mojo Risers, market stalls, bouncy castle, great food and more.  Gold coin entry.
Island Styles Runway Show, Tuesday 11th October
Celebrating local designers, clothing retailers and boutiques.  Tuesday 11th October, 7.30pm at The Pavilion,MatiatiaWharf.  Tickets $15 available at Chances,Phoenix or ph 021 0460225
World Cup Games on The Big Screen……
Artworks Community Theatre: Rugby Games on 3 x 5m screen.  Admission by Koha.  Café open.  All welcome, reservations 372 2941
The Bowling Club:  To celebrate every NZ game there will be a hangi!  Also different food options for other games.  Prices $10 door charge or $25 for meal and a complimentary drink.  Mako Street, Oneroa 372 7180
Rickys Café Bar: Rugby Live!  TV's inside and out.  Special drink prices.  Eat, drink and enjoy the games. 1/118 Oceanview Rd, Oneroa 372 2273.
Malones Irish Tavern:  The locals rugby zone. 6 Miami Ave, Surfdale 372 8011
The Rocks:  World Cup games live on the big screen.  7 days 11am till late. 11 Belgium St,Ostend 372 3722
 Concert Series Peacock Sky Vineyard  October 1st and 15th
Come and join us in the vines for an event every weekend.  Have a glass of wine and a lunch platter from our new menu.  Bring a deck chair if you like.  No BYO please.  Doors open at 11am.  Entry $10pp.  Concert 12noon – 3.30pm.
Oct 1st:  Contemporary folk band from Melbourne, Lucy Wise and the B'Gollies
Oct 15th:  Sarah Spicer, acclaimed NZ singer songwriter
Peacock Sky Vineyard 152 Trigg Hill Rd, Onetangi.  950 4386
Jazz and Blues in the Vines, The Goldie Room – 20th – 24th Oct
Saturday 22 October · Goldie Vineyard and Stefanos Pizzeria, 12pm – 4pm (undercover venues)
Sunday 23 October · Goldie Vineyard and Stefanos Pizzeria, 12pm – 4pm (undercover venues)
Monday 24 October · Goldie Vineyard, 12pm – 4pm (undercover venue)
PLUS  Evening dinner concerts at Goldie Vineyard, 8pm-10pm on Saturday 22 & Sunday 23 October.  Come and experience a festival of jazz and the essence of Waiheke island — beaches, vineyards, olive groves and art galleries. International and local jazz at Goldie Vineyard (one of the original vineyards on the island) and Stefanos Pizzeria (another Waiheke icon).
Performers include:  Multi-award winning Canadian jazz pianist John MacKay, Jazz vocalist Briar Ross, with standards in the style of Billie Holiday Voxnova five piece guitar / violin combo Manouch style fusion of gypsy swing and sounds of the 30s.
Ticket Information: Day pass Sat or Sun – pre-purchase before 20th Oct: $30.00 Day pass Sat or Sun – purchase 20th Oct  onwards or at door: $40.00 Day pass Monday – pre-purchase before 20th Oct: $20.00 Day pass Monday – purchase 20th Oct onwards or at door: $30.00 3 day pass purchased before 20th Oct : $60.00 3 day pass purchased 20th Oct onwards or at door: $90.00 Buy Tickets – 09 3724272 021 954792  Booking fees may apply Websites: waiheke Jazz and blues in the vines Briar Ross jazz vocalist nz

 Waiheke Walking Festival – 29 Oct – 6 Nov
Welcome to the second annual Waiheke Walking Festival – 29 October to 6 November 2011.
Waiheke is a quality walking destination right onAuckland's doorstep and walking is the best way to see all the island has to offer. There is an excellent and growing network of public walkways open all year taking you around the coast along sandy or pebbled beaches, through woodland and beautiful native bush, over hill and down dale, through reserves enjoying nature at its best. More here
 Concert Series Peacock Sky Vineyard Sept 10th, 17th and 24th.
Come and join us in the vines for an event every weekend.  Have a glass of wine and a lunch platter from our new menu.  Bring a deck chair if you like.  No BYO please.  Doors open at 11am.  Entry $10pp.  Concert 12noon – 3.30pm.
Sept 10th:  Classical Spanish guitar stylings of Waiheke local David Baker
Sept 17th:  Relax to the cool jazz of Briar Ross
Sept 24th:  Enjoy the best of the Red Herrings
152 Trigg Hill Rd, Onetangi.  950 4386
August 2011
Teen Street Art, Saturdays in August
Teen Street Art, free workshops at Red Shed, Saturdays in August.  Noon – 3pm,Palm Beach.  Txt 021 2644 622 for details.
 Butterflies and Bees pre-school dance classes, Mondays – August
Butterflies and Bees pre-school dance class for boys and girls during term time.  Age two-and-a-half to five.  Every Monday from August 1st, 10am – 10.45am, Morra Hall.  $60 for the term.  Phone Otherworld Productions 372 8778.
Quizz Nights at The Bay – Wednesdays during August
The Bay kicks off an eight-week Quiz night league on Wednesday 3 August.  Designed as a weekly event for islanders to enjoy as a social occasion during the cold winter months.  7.30pm – 9.30pm – every Wednesday.  Call 372 8543 for more info
Book Launch – Sat 20th August.  Waiheke Community Art Gallery 2pm.  London's Burning, meet the author Hans Versluys.
Precious Pieces – Sat 20th August.  An exhibition of hand made herilooms and their stories.  Red Shed Arts Collective 6th – 27th August.
Malones – Sat 20th August.  Fancy Dress party and live music.
Frabricadabra – Sun 21st Aug.  Fabric Fair 9-2pm.  Palm Beach Hall.  For info call Lynda 372 7787.
Native Sons at The Rocks – Sat 27th Aug
11th Birthday Party, Malones  – 27 August
Waiheke Winter Blues Festival, Aug 27th and 28th
THE DARCY PERRY BAND – KIRI ERIWATA & MOJO RISERS – KATY SOLJAK – KIPPA – SHAYN HURRICANE WILLS- THE FLAMING MUDCATS – HEART ATTACK ALLEY – AL REEVE – KRISTON BATISTICH – SATURDAY NIGHT SPECIAL SHOWS: THE NEW ZEALAND BLUES BROTHERS TRIBUTE SHOW! – PAUL UBANA JONES
Back for the 3rd year in succession, the Waiheke Blues festival welcomes all people of all ages to enjoy the best New Zealand blues music and celebrate spring time with great food, wines and fun times.
Tickets are $35 per person for all main venues for the whole weekend (excluding special shows) if you buy in advance. That's $35 for 5 venues, by the way, not per venue – exceptional value for money! More here
Rocky Horror Night, Sandbar – Friday 5 August
Rocky Horror night dress up, prizes and cocktail specials.
The Rocky Horror Picture Show Fundraiser – Friday 5th August
The Rocky Horror Picture Show airs at 8pm on Friday 5th August at Waiheke Community Cinema.  Dress up and join in the fun for this movie fundraiser for Waiheke Adult Literacy.  Tickets are $15 fromIsland in Oneroa.
Precious Pieces – Sunday 6th August
This exhibition of hand-made heirlooms and their stories opens at 4pm at the Red Shed Arts Collective inPalm Beach.
Long Catalan Lunch – Sunday 7th August
The WaihekeCommunityArtGalleryis inviting patrons to support the 2012 Waiheke Artist in Residence programme by attending the "Long Catalan Lunch" event at award winning Casita Miro on Sunday 7th August from 12.30pm – 4.30pm.  Tickets are $140 per person , which includes lunch, drinks and entertainment.
Half of the ticket price will contribute to the residency scheme.  Tickets are available from theWaihekeCommunityArtGalleryby phoning 372 9907.
Sunday Jam – Sunday 7th August
The Sunday Jam featuring local artists is on at The Rocks in Ostend from 5pm.
Billy T James Tribute – Sunday 7 August
The 20th anniversary of the death of much-loved NZ entertainer Billy T James will be commemorated on the island by long time collaborator and former Waiheke Islander, Peter Rowley.  He will make the occasion with a performance of hie one-man show Billy T & Me.  The tribute show will take place on the night of Sunday 7 August, twenty years to the day, at Artworks Community Theatre from 9pm.  Tickets are $20 and are available from the Theatre's TimeOut Café open Monday to Saturday 9am-3pm or book by leaving voicemail on 372 2941 or email ArtworksTheatre@gmail.com
Brainwave Presentation – Tuesday 8th August
Waiheke Playcentre hosts a presentation to parents on child brain development by the Brainwave Trust.  The presentation starts at 7.15pm at Surfdale Hall and tickets are $10.  Ph 372 9480 for more details.
Raising Children in a Toxic World, Thurs 11th August
Raising Childrend in a Toxic World, talk by Helen Elscott, Thursday 11th August 7.30pm – 9pm at Fossil Bay Kindergarten,Korora Rd.
WaihekePrimary School, Mon 15th Aug 1 – 2.45pm .  Parenting The First Decade.  Tickets $15 per adult available from Waiheke Primary or Te Huruhi Primary.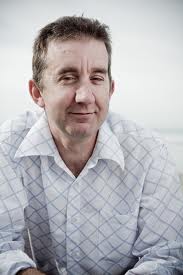 Welcome to Las Vegas, Sat 13th August
Saturday 13th August, Te Huruhi School Hall, 7pm.  Roulette, blackjack, poker, money wheel, inflatable horse racing and more.  Rotary fundraiser for a new ambulance and other community projects.  Grand prize trip worth $5,000.  Tickets $30, includes $1m casino chips and supper.  Tickets from United Travel,1 Tahi Rd.  372 9606.
Fiddler on the Roof, Fri 29th July – Sun 7thAugust
Fiddler on the Roof, Friday 29th July to Sunday 7th August.  Performances on Friday and Saturday at 7pm, Saturday and Sunday at 1pm, Artworks Theatre.  Tickets $20 adults, $15 concession / child and $50 family (2 adults 2 children) available from Artworks café.

July 2011
Zumba Kids Dance Party Thurs 21st July
Zumba Kids Dance Party with Lily and Wendy, 4.30pm – 6pm. WaihekePrimary School, $3 or $5 for 2 kids.
The Naiad Trio Sat 23rd July
Live at Five at Whittaker's Concert.  The Naiad Trio, 5pm,WhittakersMuseum, Oneroa.  Janina Paulo on clarinet, Rachel Wells on cello, Binna Jang on piano.  Ph 372 5573
A recital at Pie Melon Bay, Sat 23rd July
Jessica Alloway is a wonderfully talented young Waiheke violinst, setting off to continue her studies inEurope, in September.  To raise funds towards an appropriate violin for her, the Waiheke Youth Music Trust has organised, with the generous support of Bruce Plested, a recital by Jessica at Pie Melon Bay.
Saturday 23rd July 4-7pm.  Tickets $100 each (including wine and finger food) are available from the Waiheke Community Art Gallery, or by phoning Robin Fraser 372 6394, Rob Nicholson 021 706 639 or Alan Smythe 372 9804 or fromPO Box 332, Oneroa.  Bank Transfer 020108018726800.
Dreamcatcher Making with Lou, Tues 26th July
10am – 11.30am, at The Story Centre at Artworks, Oneroa.  $10 per person, per session.  $15 for two, $20 for a family of three.  Pre-schoolers must be accompanied by an adult.  Ph 372 8778 or 021 046 0225.
Otherworld offers Holiday Workshops 25th – 28th July
Otherworld Productions is putting on hip hop and hula hoop workshops to entertain during the school holidays.  The school holiday workshops are at Te Huruhi School hall and start on Monday, marking the birthday of the late Sallie-Ann Stones, founder of Otherworld Productions.
July 25, 26 & 28:  10am – 12noon Hula making & technique / 1-2pm Hip Hop, primary and intermediate age / 2.30-3.30pm Hip Hop for teens.
July 27 (no hooping) / 1-2pm:  Hip Hop primary & intermediate / 2.30-3.30pm: Hip Hop for teens.
Cost:  $100.  Full hooping programme $55 and full Hip Hop programme $55.  Primary school aged children attending the full four day workshop will be supervised over the one-hour lunch break.
Call Lou Mills on 372 8778 for adult hip hop classes and more information about the school holiday programme.
ACTiv8 Drama, Wed 27th July
Auditions for children's play and film about a world cup opening ceremony with a bang.  Second round of auditions for those who couldn't make it.  11.30am Te Huruhi School Hall.  Ph 372 8778.
Cosy up in the Library, Wed 27th July
11am – noon.  Round-robin knockout tournament.  3D tic-tac-toe, draughts, Chinese checkers and snap.  Prizes to be won.

JUNE 2011
THE WAIHEKE WINTER ARTS FESTIVAL 2 – 4 June 2011
A special weekend of Artists Open Studios – go behind the scenes – enjoy intimate small spaces and award-winning artists. Saturday and Sunday 10am – 4pm.  Tickets $25 each self drive.  Full Day Tour option additional $35 per  day.  Book at the Gallery, 2 Korora Road, Oneroa.  (09) 372 9907.  More here
JAZZ AT SALT RESTAURANT 4th and 5th June 2011
Jazz lovers can head to SALT restaurant on the Strand in Onetangi this weekend, as the venue continues it's winter Saturday Night and Sunday long lunch series.  Fresh from the Waiheke International Jazz Festival at Easter, the Jimmy Garden Quartet will return to perform on Saturday night.  Dinner bookings can be made from 6pm.  On Sunday, the Pete Reilly Trio will entertain over the long lunch from noon to 5pm.  Phone 372 8846 for bookings.
THE RED SHED PRESENTS A MATAKIRI EXHIBITION & EVENT 4th – 26th June 2011
An exhibition and event honouring the sacred adornment of Papatuanuku Earth Mother, bestowed upon by her Tane Mahuta.  Opening Saturday 4th June 4-5pm, The Red Shed Gallery, Palm Beach.  Join us afterwards for an evening of performance, dance, song, story and shared dinner next door at the Palm Beach Hall 5-7.30pm.  Entry by gold coin donation.  Enquiries to Jacqueline 372 2831 or meail karoro@clear.net.nz
IT'S A JUNGLE OUT THERE 4th June 2011
Kaleidoscope Performing Arts presents a high energy, acrobatic show and a rapidly declining rainforest.  Artworks Theatre.  7pm.  Tickets from I-site, $20 Adults, $15 Student/Seniors, $10 Child or $50 Family.
SUNDAY JAM AT THE BAY 5th June 2011
Smooth Grooves with Mano Pratt and friend from 5pm.  The Bay at Matiatia.  372 8543
MATAKIRI FESTIVAL
As the Matakiri constellation returns to the early dawn skies on Saturday, celebrations will being all over Waiheke.  Matakiri marks the Maori New Year.
To mark the Maori New Year on Waiheke a programme of events has been organized by Piritahi Marae and the Red Shed Arts Trust in association with Te Puni Kokiri.  Friday 3rd June – Opening of He Wai exhibition at TOI Gallery.
Saturday 4th June – 10am:  Powhiri at Piritahi Marae, Blackpool.  11-4pm:  Piritahi Marae art, poetry, flax and puppetry workshops.  4pm:  Exhibition opening Red Shed Gallery, Palm Beach – Te Korowai Kakariki Tapu Papatuanuku.  Sunday 5th June – 12noon:  Shared lunch at Piritahi Marae – poetry, performance, film
ARTS AND CRAFTS AT MORRA HALL 5th June 2011
A Craft Plus artisan market featuring designer crafts is at Morra Hall on June 5th from 10am – 3pm.  The artisan market is a Waiheke Community Art Gallery initiative in conjunction with the Winter Arts Festival.  It will feature crafts like handmade dolls, funky cushions, pin cushions, hot water bottle covers and jewellary.  For more information contact Lynda 372 7787.

April 2011
Waiheke International Jazz Festival 22-24 April
An enterprising proessional guitarist is promising the island a spectacular musical treat this Easter, after resurrecting the Waiheke International Jazz Festival. John Quigley, lead guitarist from the Nairobi Trio has been organising the three-day festival over the past few weeks. The main international act confirmed for this year is the Dixieland Gipsy Band from Denmark. Another international musician, Canadian jazz singer Karen Manion will be performing at late night Supper Club sessions. Other key acts confirmed for the festival are Nathan Haines, Sola Rosa Soundsystem, the Nairobi Trio – performing in tandem with guitar virtuosos Nigel Gavin and Graham Wardrop and 'Hotclub Sandwich', The Grand Central Band, the Alan Brown Trio, the Jimmy Garden Quintet and Blacksandiva, with others yet to be announced. A line up of talented island locals includes Briar Ross, Chocolate Fish, the Mano Pratt Band, and Andy Blue.
The Jazz Festival will be held in four seperate locations; The Dunes on Onetangi, Rangihoua Estate; The Bay (formerly HarbourMasters) at Matiatia and The Waiheke Island Resort. The festival kicks off on Good Friday with a 'Gold Pass Jazz BBQ' at The Bay, catering for SuperGold Card holders. A jazz about bus will be travelling between all the venues for the day and weekend daytime pass holders. Evening concerts are also planned for each night with a Grand Finale Concert on the Sunday. Or more information contact info@waihekejazzfestival.co.nz
Family all jazzed up for festival
Island muso Mano Pratt will put on an eight-piece band for the Waiheke Island International Jazz Festival at Easter to show off some Waiheke talent. The Mano Pratt Band will play original songs composed by Mano. The band's other members are Manuel Kahura on drums, Pete Carahi on bass, Pete McNamara on alto sax and keyboard, Pete Kelly on trumpet and trombone and Reese Helmondollar on tenor sax. The Mano Pratt Band will feature at the Good Friday Groove at Rangihoua Estate alongside Sola Rosa Soundmachine, BlackSandDiva and the Jimmy Garden Quintet.
Waiheke International Jazz Festival early bird tickets are on sale. Tickets for the concert series and the Good Friday Groove are $32.50 but can be purchased for the early bird price of $25. Single jazzabout day passes are $49, or $39 if purchased for the early bird price. For the full line-up and to purchase tickets click here.

March 2011
Whittaker's Musical Museum – Sat 12th March
Lisa Chung, 5pm. Lisa with Matteo Napoli will perform works by Francouer, Poulence & Stravinsky. Matteo will play piano solos by Albeniz and De Falla. Admission $20 concessions available. Bookings 372 9627
Coastal Classic – Saturday 12th March
Waiheke's Coastal Classic fun run and walk is on this Saturday 12th March. With 5km, 10km and 18km events there is something for everybody, from a half-hour run to a three-hour walk. You can enter online at www.waihekecoastalclassic.co.nz until Friday 11th March or at the Wharf between 4pm and 8pm on Friday. On the day of the event competitors can enter from 9am at the Matiatia start line, with walkers starting at 10.30am and runners at 11am. This year all profits will go to Waiheke youth sports teams and Waiheke-based sculptor Chris Bailey's Brazalian Ju-Jitsu club, which is offering the island's young people a new sporting discipline.
Live Music every Friday with Al Reeve 6-8pm. No cover charge. $35 set dinner menu and $5 on selected wine & beer. The Food Embassy, 102D Ostend Road (opp Woolworths). 372 7197
NZ Redcross Christchurch Earthquake Appeal – Sat 19th March
Artworks, fundraising from 12 noon – midnight. Sat 19th March. Call 372 5801
Malones: Jafa playing St Paddys Day, 17 March and Friday 18 March
St Patricks weekend. Fancy Dress, Green Beer, Guinness t-shirts, Giveaways and Great Craic tickets $20 on gate or pre sale. $15 covers weekend entertainment. Saturday night live Irish Karaoke with Karin. Spot prizes for any Irish tune. Saturday Island jam. 372 8011
Stonyridge Vineyard: 20 March Chanelle Davis and Daniel Munro. 1.30pm – 4.30pm Free entry.
APO Evening – Whittakers Museum Sat 26 March
Special APO evening. Enjoy a lively and entertaining musical evening at Whittaker's Musical Museum, Oneroa accompanied by fine wine & canapes in the Waiheke Community Art Gallery. Performances by Jade String Quartert (Haydn & Schumann) and NZ's rising young virtuoso Jason Bae playing the Museum's famous Paderewski Bechstein piano. Fundraising evening Sat 26th March. Tickets $85 by advance purchase only. Contact Christopher Johnstone on 623 5628 or Christopher@APO.co.nz
Fringe Festival, 25 February – 13 March.
As part of  the Auckland Fringe, and over three amazing weekends, Stefanos will play host to the Fringe Festival on Waiheke Island. With almost all performers solely from Waiheke, the festival showcases the rich, diverse and astonishing talent we have here on the island. The program is filled with Waiheke delights, featuring DJ dance nights, a capella choirs, clowns and children's story telling, improvised theatre, a sizzling burlesque show, live music featuring Waihetian mambo jazz band Chocolate Fish and acoustic blues rock favourites The Mojo Risers…and more!
February 2011
Headland 2011 Sculpture on the Gulf Jan 28 – Feb 20, 2011.headland 2011 SCULPTURE ON THE GULF is New Zealand's leading contemporary sculpture exhibition set on the spectacular coastal walkway on Waiheke Island. headland 2011 , the fifth biennial exhibition, will feature New Zealand's leading sculptors in a stunning showcase of our most creative, accomplished and dynamic artists. Visit Waiheke for headland Sculpture on the Gulf 2011. Exciting new awards include the headland 2011 Premier Award $30,000 and 2 x Selector's Merit Awards $5,000.
Food Embassy, Live music with Al Reeve – Friday 11 February
Opposite Placemakers, Ostend. Live music with Al Reeve 6-8pm.
Sunday Session at Rickys – Sunday 13 February
Kiri Eriwata singing live from 2pm. Happy hour prices. Free entry. Rickys, Oneroa. Next week Al Reeve.
Last NZ gig for World Beat – Saturday, 12 February
Chilean Musician Manuel Prieto says he is looking forward to his last gig on Waiheke before he sets off to Fiji. Manuel plays originals and cover songs of a fusion called World Beat Latin Music, which mixes different styles and rhythms from several Latin American cultures, African rhythms and Gypsy music. The Summer Love Festival farewell is at Artworks Theatre, Saturday February 12 at 8pm. Entry is $20 at the door.
January 2011
Waiheke Island Community Cinema
Wharf to Wharf – 15th Jan 2011
The next fullers Wahrf to Wharf fun Run is to be held on Sat 15th January, but organiser are urging people to enter now and not leave it until the last day. If you are up or a serious challenge then there's either the 13km or 25km courses. These races start at Orapiu Wharf and finishing at Onetangi (13km course) or Matiatia (25km course).
The less challenging 12km course starts at Onetangi Beach and finishes in Matiatia and the easier 7km course starts at Kennedy Point Wharf and finishes at Matiatia. Proceeds from this annual event are distributed by Waiheke Rotary Club to assist local community organisations.
Information on each course plus entry fees, rules and entry forms, are no available online at www.wharf2wharf.co.nz.
Lets Hear it For the Boy – Sun 16th January
A benefit concert to help a four-year-old Waiheke boy hear is being held on Sunday 16th Jan at Wild on Waiheke. Ollies family have been frantically raising money for a second cochlear implant for Ollie. The concert to help Ollie, Let's Hear it for the Boy, will start at midday and run to 3pm. Entertainment will include bluesman Al Reeve, Radio Rebelde, the V12 male choir and Zumba with Rachman Saleh. Tickets $10 and children are free.
Waiheke Dirt Track – Sun, 16th January
Racing Sunday 16 January, 11am. Racing Anniversary weekend Sat 29th 2pm, Sun 30th 11am. Free entry, no dogs.
December 2010
Nairobi Trio at The Dunes, 31st December 2010
Top jazz combo The Nairobi Trio will be keeping partygoers entertained at The Dunes in Onetangi this New Years Eve. Kickoff time is 8pm with a glass of Veuve Clicquot on arrival, canapes & Te Matuku oysters. Tickets $55pp available from Gulf News, Oneroa or The Waiheke Island Resort 372 0011.


THE HIGHLIFE NYE EXPERIENCE RETURNS TO WAIHEKE ISLANDS STONYRIDGE VINEYARD – 31st DECEMBER
A  big thanks goes out to everyone who came and supported Highlife NYE Matakana 2009. With over 10,500 people in attendance, the event was a  huge success and we are already in the planning stages for the 2010  event. To keep things fresh for our supporters, this year (2010) Highlife Entertainment is taking a break from Matakana and will be moving the Highlife NYE Experience back over to Waiheke Island for a premium R20 Highlife NYE event that will be held in the beautiful surroundings of Stonyridge Vineyard. The event is restricted to half of the Matakana event's capacity and tickets will be very limited, so get your friends together now, get your accommodation sorted and get ready to purchase the early bird tickets as soon as they go on sale.  Highlife NYE Early bird tickets will be released for sale on Thursday July 1st at 9am and will be available exclusively from www.iticket.co.nz, Real Groovy Queen St, Conch Records Ponsonby Rd and Stonyridge Vineyard Waiheke Island.
Acoustic Cafe – Nourish, friday 17th December
Waiheke's monthly original music night, Acoustic Cafe, returns on friday 17th December at Nourish Cae in Ostend. This month's gig features a line-up o Auckland-based artists covering a range of musical styles. Otis Mace performs both solo and with various combos and reflects fresh, irreverent and darkly comic takes on life in Aotearoa. Kristie Addison plays solo acoustic guitar or piano and sometimes even a blue ukulele with pictures of fruit on it. David Kelley will also be playing. Doors open at 7pm with food and drink available.
Stefano's – Friday 17th December & Sunday 19th December
Celebrate the opening of "The Barn". Mojo Risers, 17th December from 9.15pm til late. Tickets just $10. Rock your bluesy Christmas socks off. Sunday 19th December – Chocolate fish with guests Elvis Presley, Pat Ulrich, mime and circus acts, Pala the burlesque clown, Zumba & more. 6Pm til late, $50 includes full fabulous buffet dinner. No BYO

End of year kid's music performance – Nourish, 10th December 6pm
A chance to support and celebrate the contributions of our budding musical talent.
The Rocks, Saturday 11th December
Muthrtung, Mr Lastboat and Lincoln Jackson playing 8pm till late.
Carols by Candlelight – Sat 11th December
Carols by Candlelight, Sat 11th December at Little Oneroa 6-9pm. Enquiries Jeness 372 4459
The Sandbar – Saturday 11th December
11 Legs Party – DJ Cruz (Chile), DJ Karlitos (NZ) DJ Mano Paco (Arg). Reggae, Latin, Hip Hop $5. 9pm on – REE legs 11 drink with entry.
Sister Shout, V12 and guests – 3,4 and 5th December, CHRISTMAS CONCERT
Sister Shout, V12 and guests present 'Peace on Earth' Christmas concert at Waiheke High School. Details to ollow
November 2010
Auckland-based choir Jubilation, 7.30pm, friday13th November
Auckland-based choir Jubilation is making its first pilgrimage across the water to Waiheke in November. Jubilation will be at Artworks Community Theatre in Oneroa on 13th November with doors opening at 7.30pm for an 8pm start. Call the theatre on 372 2941 or email ArtworksTheatre@gmail.com or bookings.

Sealink Jassy Dean Trust Garden Safari – 13th & 14th November
We are immensely proud to present, for the enjoyment of all New Zealanders and international visitors, our Waiheke Island gardens. Waiheke Island is a unique community and a beautiful natural environment.  This uniqueness and beauty is an opportunity that allows the Waiheke community to support its sick children with funds raised as a result of our guests visiting some of Waiheke's most beautiful gardens each year at our annual Garden Safari. Sealink Jassy Dean Trust Garden Safari , Waiheke Island, 13 November 2010 – 14 November 2010

Art Out There, 12-14 November
The Waiheke Community Art Gallery, in conjunction with SeaLink Jassy Dean Garden Safari, will be presenting Art Out There, described by 'another stunning exhibition of artwork for the outdoor environment', which will run from 12-14 November. There is a gala preview of this event being held on friday 12 November at Jasa Vineyard at 119 Wilma Road. Tickets for the preview are $30, available from the Waiheke Community Art Gallery. More here
The VortexTribe from USA – The Rocks, 20th November
Combining improvisational jazz with elements of rock, world music, and sophisticated classical arrangement, Vortex Tribe's sound swells with hard-hitting, danceable grooves and rich, synthesized keys. More here
Waiheke Olive Festival – 20th & 21st November
Celebrate the 2010 Olive Harvest with the growers. Olive Oils, Jazz, Food, Wine and song in the Olive Groves and gardens. Join the olive growers who will present their oils and other olive products created from the unique Olive Groves on Waiheke Island. More here
Saturday 20th November and Sunday 21st November, Rangihoua Estate, 1 Gordons Road, Rocky Bay


October 2010
Waiheke Island Walking Festival, Waiheke Island, 30 Oct – 7 Nov
Nine-day walking festival. Free guided walks, two each day.
Feature walks include:
— Coastal Classic / The Big Day Out / Big Bush Tramp –  Optional overnight camping / Stony Batter WWII tunnels
Pre-register definitely recommended as numbers are limited on each walk. To register call Waiheke Visitor Information Centre on 09 372 1234, 09 372 1234, or email waiheke@aucklandnz.com.
SANDBAR: Manu da Banda, 6-9pm, Sat 6th November. Free entry, 021 234 2661 for details/bookings.
OSTEND MARKETS: Every Saturday from 8am, Belgium Str, Ostend. family fun, books, food, & crafts. Contact Iessa 372 4475 or Jill 372 6933.
Burlesque Festival – 22nd – 24th October

Waiheke has been specifically chosen as a perfect boutique location to host a high end Burlesque festival. The exclusive event will showcase New Zealand's most recognized and up and coming performers on the national Burlesque circuit.
The festival will run over the three days of Labour weekend with workshops and merchandise available for purchase. There patrons will have the opportunity to meet the stars learn some classic moves and buy costumes and accessories.
They can then dress to the nines to indulge at the days VIP Dinner show at one of  Waiheke's stunning Vineyards. There they will be treated to a fine dining experience while being entertained by one of our top highlight performers. more here

Circus Sideshow, The Dunes – Onetangi Beachfront – 22 October 2010
Circus Sideshow is a sensational variety show full of surprises, from the Wild day's rum Pirates, to Afro's and hula-hoops, the night's atmosphere will be enhanced by the 'Knaves' quirky humour, as he introduces fresh burlesque performers 'Miss Cherry Lashes', 'Miss V' and 'Kitty Bellevue'. We are also treated to the enchanting 'Lilly Loca', on a journey of dance and soulful singing. Featuring international starlet 'Miss Venus Star', a platinum blonde Hula Hoopist Extraordinaire, she will excite with her Candy man hula. More Here
WBF Official After Party HQ with DJ Amy B, Waiheke Island, 22 October 2010
Still going? Head on down to the sandbar the official after party HQ. Mix & mingle will the
finest les gens of burlesque. Inner groove will be heating up the atmosphere from 9-10pm,
George fm DJ's excite from 10-11pm, & as wild spirit of Elvis sweeps through the Sandbar,
Showman the Knave will spin some Jazz, Swing, & Rock N Roll. So slip on your sophisticated
dress code cats, & shake your wild thing at the Sandbar.
153 Ocean View Rd, Oneroa, Waiheke Island. R18. Door sales only $10
Waiheke Jazz Club & Peacock Sky Vineyard Present – Sat 23rd October 12-4pm
The Waiheke Jazz Club's birthday party at Peacock Sky Vineyard – featuring the Briar Ross Quartet in the backdrop of the vineyard. Shuttle available from 'Onetangi Beachront Cafe" bus stop. Saturday 23rd October 12-4pm. Undercover seating. Tickets at the door, Shop the Rock and I Site. Lunch platters available. Tickets $10 (rainday Monday). Ph 09 950 4386
Gypsy Pickers Spring Tour 2010, Charlie Farleys, Saturday 23 October 2010
"World class, feel-good music with the power of soul!" The Gypsy Pickers are a multi-instrument, songwriting duo known for their engaging live performances on the local and international touring scene.
The Gypsy Pickers make music to move you and make you move – with roots, rock, reggae, bluegrass, gypsy jazz, blues, Latin, soul, Kiwi classics, originals, well loved hits, and fun novelty pieces to entice and entertain. For a quality concert experience or floor shaking evocative dance music, the Gypsy Pickers are known for consistently pleasing crowds of all ages. Experts at their craft on hot 'n' spicy guitars, mandolin, banjo, melodica, rich vocals and percussion. Admission: Free
%3
This post is tagged 60s party, Aaron Carpenter, Acoustic Cafe, acoustic cafe on waiheke island, Andy Blues, Antoinnes restaurant, Art Out There Waiheke, Arts Festival Waiheke Island, Artworks Theatre, Artworks Theatre Waiheke, Artworks Waiheke Island, award-winning artists waiheke, bar oneroa, bar waiheke, Bastille Day, Bastille waiheke, Ben Kara, Benn Morrison, Big Screen, Billy Fluid, Billy T james, Billy TK Senior, Bledisloe Cup, Blues on Waiheke, Bourdeaux, boy, Briar Ross, Brother Love, Brother Love waiheke auckland, Bubbles Bags Bling waiheke, Burgundy wine, Burlesque circus sideshow, Burlesque Festival waiheke, Cabaret, Cable Bay, Carols by candlelight waiheke, carols waiheke island, Chef Tony Moss, Chef Waiheke, Chris Bailey, Cinema on waiheke island, crowded house, Dance, Dave Alley, Dave Khan, David Kelley, DJ Cruz, DJ Karlitos, DJ Mano Paco, DJ RG Bargy, Drama, Eden Roberts, Elivs Presley, Event, events, events july auckland, events on waiheke, Events Waiheke Island, Fashion Show Waiheke Island, Festival Waiheke Island, film, French Classics, Full Moon Party, galleries waiheke island, Garden Safari, garden safari waiheke, Glenda Andrew-Neal, Goldie Room, Goldwater Estate, Hangi, Hauraki Gulf, headland sculpture, Highlife NYE Stonyridge Waiheke Island 2011, Horse racing, Hot Club Sandwich, Ian Simpson, Island Story, Island Styles, Island Styles Runway Show, Jassy Dean Garden Safari, Jassy Dean Trust, Jazz Waiheke, John Hawkesby waiheke, Julian Wright, Kasiano Tagoai, Kathy Ogletree, kids shows waiheke, Kinder, Kristie Addison, Labour weekend waiheke, Latest Events Waiheke Island, live rugby waiheke, Loloma Andrews, Mamacan, Manicure & Margarita night, Matariki, Matariki exhibition, Matariki Piritahi Marae, Matiatia Olive Estate, Midwinter Dip 2010 Waiheke, Midwinter Dip Little Oneroa, Miss Venus Star, Mojo Risers, Mojorisers, movie, movies on waiheke, Music Waiheke Island, Musicals on Waiheke, Nairobi Trio, Neal Goshal, New Year on Waiheke, New Years Eve on Waiheke Island, New Years Eve Waiheke, Nigel Scanlon, Nikki Ngatai, Nourish Cafe, nourish cafe on waiheke, NYE Waiheke Island, olive festival waiheke, Olive Groves, Olive Harvest, Olive Oils, On The Rocks, Once Upon an Island Festival, Onetangi Beach horse races, Otherworld Productions, Palm Beach, Paora, past events waiheke auckland, Peacock Sky Vineyard Concert Series, Piritahi Marae, Piritahi Marae Waiheke, Queens Birthday, Queens Birthday Weekend, Rangihoua Estate, Red Shed, Reggae, Rhone, Rocking Forever, rocky horror waiheke, Rugby Big Screen, rugby world cup 2011, Sallie Ann Stones, Sally Smith, Sandbar, Sarahtonen, School Fundraiser, School Holidays Waiheke, Sculpture on the Gulf 2011, Shona Laing, Sister Shout, Ska, Skinny Sardine, Song, Spring Fair, St John, Stonyridge Events, Stonyridge NY, Story Telling, sunday jam waiheke island, Sunday lunch Europe Waiheke, sunday lunch waiheke, Te Ao Marama Ngarimu, test rugby waiheke, The Duens on Onetangi, The Goldie Room, The Great Chicane, The Rocks, The Sandbar, The Swing Cats, The Village Project, The Vortex Tribe, Tim Shadbolt, Toi Gallery, Toi-Te-Rangiuaia, Tony Moss, Tri Nations Rugby, Venue, Veuve Clicquot, visit waiheke, waiheke, waiheke blues festival 2010, Waiheke Dirt Track, Waiheke Events, waiheke events labour weekend, Waiheke Garden Safari, Waiheke Island Cinema, Waiheke Jazz, Waiheke Jazz and Blues, Waiheke Olive Festival 2010, Waiheke Playgroup, Waiheke Primary School, Waiheke Rugby League, Waiheke Winter Art Festival, Waiheke Winter Blues Festival, Western Ball Waiheke, Whakanewha Regional Park, what to do, what to do on waiheke in winter, what's on, whats on queens birthday weekend, whats on waiheke, Wild Days Rum, William Thorpe, winter soltice, Winter Swing Ball, Winter Yoga Retreat, Winter Yoga Retreat Waiheke, world Cup games, Yoga Retreat Waiheke