Hauraki Gulf, New Zealand.
36'48" South 174'04" East

Waiheke Islands very own Rainbow Warriers
 Goldwaters' Gift to Uni by Gill Alcock
The oldest vineyard on Waiheke has passed into the hands of the Universityof Auckland. It will become a wine science faculty thanks to the continued vision of winemaking pioneers Kim and Jeanette Goldwater. The university has acquired the Waiheke property through a commercial transaction and the Goldwaters gifting back $4 million of the purchase price to the wine science programme. The 14-hectare vineyard above Putiki Bay was first planted in 1978. It will now have two operations. An established team will continue to produce wines commercially under the Goldie brand andIsland label. More here
Magnificent Seven in Sahara Fundrazor by George Gardner
Chef Tony Moss won't be wearing a woolly hat this winter despite having his lengthy locks removed to raise funds for the family of leukaemia sufferer 12-year-old Sahara Adams. The fundraiser at Food Embassy on Sunday attracted six other brave participants who took part in the sponsored shave, courtesy of Phoenix Hair Design. More here

 
Battered by Rain
The Met Service does not have a rain gauge on Waiheke Island but a home weather station on Cory Rd recorded 71mm over 12 hours from Wednesday evening. This follows an already wet winter. NIWA senior climate scientist Georgina Griffiths says the Awaroa Valley weatherstation on Waiheke recorded a total of 411.7mm total winter rainfall in 2009 and this increased to 502.9mm in 2010. More here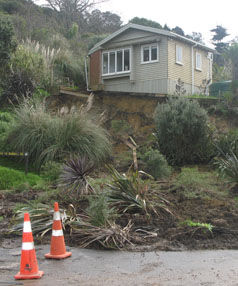 Anti-suburbia fighter
SUPERCITY candidate Mike Lee believes Waiheke Island should have no more than 10,000 permanent residents to stop it turning into a "suburban sprawl nightmare". Mr Lee has lived on Waiheke since 1972 and is standing as councillor for the Waitemata and Gulf Ward. He says while people are always welcome to come to the island he doesn't want a "social engineering project". "I am adamantly opposed to the idea of putting another 20,000 to 40,000 people on the island that was touted a few years back. If you want suburbia don't vote for me. More here
Stream closer to being safe for kids
Water quality tests of Little Oneroa Stream show E.coli levels have dropped below Ministry of Health guidelines for recreational water for the first time in five years. However public health warning signs will stay because levels could rise dangerously this summer. The signs were put up in January 2008. More here

Look Out for Toxic Sea Slugs
WAIHEKE Islanders are being asked to look out for toxic sea slugs washed up on beaches or in the island's intertidal zones after three were found on Kohimaramara beach last week and public warning signs were erected.
Island fishermen have been reporting finding sea slugs regularly attached to their bait when fishing off the rocks. One father says he and his son fished one up at the kids fishing competition at the Matiatia wharf in May. But there have been no reported sightings on our beaches yet. More here
Swine flu strikes Waiheke
HEALTH professionals are warning residents to stay vigilant against signs of the swine flu. The World Health Organisation says the swine flu pandemic has moved into the post-pandemic phase globally, but not in New Zealand. Island doctors say general flu numbers are up 20 percent compared to last year and school absenteeism peaked earlier this month, with up to 80 children away from Te Huruhi Primary School and 62 from Waiheke Primary School. More here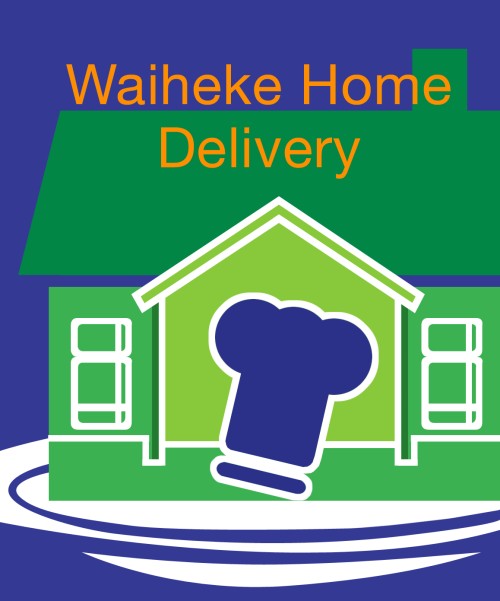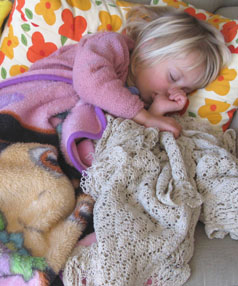 Goff Surveys Welfare
AFTER the Chris Carter incident forced Phil Goff to cancel his Waiheke visit on August 6 and fly urgently to Wellington, the Labour Party leader finally put a shaky foot on the island after what he described as a funny bumpy ferry ride. Mr Goff and Labour list MP Jacinda Ardern first went to visit Waiheke Community Childcare Centre before popping in to Waiheke Budgeting Services in Oneroa. The visit was part of a nationwide tour with a main goal to "talk and listen to the people". More here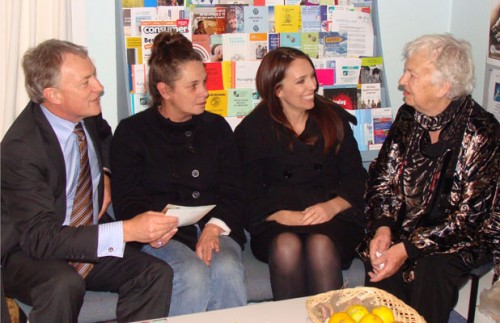 Park speedsters endanger lives
Friends of the Roosters and parks representatives are calling for drivers to slow down on the newly sealed road to Onetangi Sports Park. Since the park's access road was sealed in June, Rooster Friend John Newton says the speed of some cars travelling into the park has increased dramatically, putting roosters, children and park users at risk. The road was sealed shortly after an accident killed a local man. The budget for sealing the road had been approved in an earlier community board meeting. The roosters gather at the park entrance. Mr Newton says they are regularly visited by locals and have become a bit of a tourist attraction. More here
Jobs still uncertain
Some Waiheke families face an uncertain future as the supercity restructure makes no promises for all jobs to continue. Over the past three months, staff from the eight current Auckland councils and council-run amenities have received letters informing them whether their current position is secure, in a change process, or has been de-established. At least 3500 staff are caught in the change process with more than 20 Waiheke families likely to be affected. More here

Fears for Carparks
THE council is vowing there will be no loss of commuter carparks during short-term upgrades at Matiatia. Fears that parking could be lost in the grassy area in front of the old harbourmaster's building when the council went ahead with the Matiatia Direction Plan have sparked anger among some commuters. Their concern has been backed by Waiheke Community Board member and transport spokesman Herb Romaniuk, who says the commuters have never been consulted about parking space numbers at the wharf since the council bought the property in 2005. More here

Masquerade Fundraiser
Feathers and frills, powdered wigs and ribbons were the order of the day at Mudbrick restaurant to raise money for the art gallery's artist in residence programme. Guests took up the Venetian Carnival theme to dress up in costumes – the more elaborate and fussier the better – and masks decorated with feathers, glitter and ribbons. More here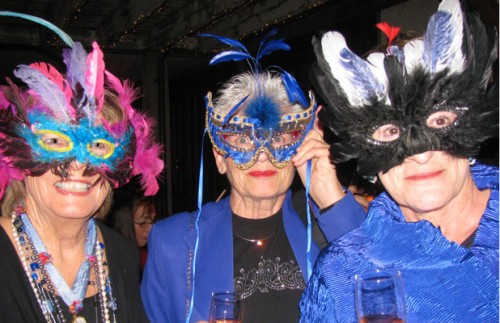 Sarah Guppy – paintings from the golden isle
Sitting in the Owhanake Barn on Korora Road with the Waiheke Community Art Gallery artist in residence Sarah Guppy, it would hard to imagine a more tranquil spot from which to get creative inspiration. The barn is surrounded by some of the prettiest rural scenery on the island with vineyards close by, Fossil Bay Farm across the road and Owhanake Beach a few minutes' walk away; a place which has become a favourite walking and painting destination for Sarah and her regular companion Josephine the whippet. Working towards her exhibition opening at the gallery this Friday, Sarah says her three-month Waiheke sojourn has been heavily influenced by the beauty everywhere she looks.The barn is surrounded by some of the prettiest rural scenery on the island with vineyards close by, Fossil Bay Farm across the road and Owhanake Beach a few minutes' walk away; a place which has become a favourite walking and painting destination for Sarah and her regular companion Josephine the whippet. Working towards her exhibition opening at the gallery this Friday, Sarah says her three-month Waiheke sojourn has been heavily influenced by the beauty everywhere she looks. More here

Island landowners make the Rich List
THREE Waiheke landowners have made the Rich List in 2010. Graeme Hart, the Spencer family and Bruce Plested are among 150 others who have been named as New Zealand's wealthiest. The list is compiled each year by National Business Review and the threshold for qualifying this year has remained at $50 million. Mr Hart is the richest man in New Zealand, worth $5.5 billion.
He owns Church Bay Farm and several properties nearby. Family investments include a holiday home for visitors, the vineyard and home previously built by former Fullers ferries director George Hudson, and the former Gordons' property on the Huruhi Bay side of Park Point. More here
Fears for carparks
THE council is vowing there will be no loss of commuter carparks during short-term upgrades at Matiatia. Fears that parking could be lost in the grassy area in front of the old harbourmaster's building when the council went ahead with the Matiatia Direction Plan have sparked anger among some commuters.
Their concern has been backed by Waiheke Community Board member and transport spokesman Herb Romaniuk, who says the commuters have never been consulted about parking space numbers at the wharf since the council bought the property in 2005. More here

Sergeant to move on
When sergeant Stephen Ambler arrived on Waiheke as a detective, he was faced with aggravated burglaries, smash and grabs, intruder rapes, stabbings and a number of violent crimes associated with the large methamphetamine use by many islanders. Now, more than five-and-half years later, the level of crime on the island has dropped to such an extent the police reports printed in the local papers sometimes show no arrests at all. Mr Ambler's main area of interest is drugs – the manufacture, selling and purchase – plus crimes associated with the industry. More here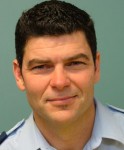 MP and peace-lovers dig in for a good cause
It's all action at the award-winning McKenzie Reserve project with 1000 donated trees being planted over several volunteer days. Last weekend saw two volunteer groups working with the Friends of McKenzie Reserve – one from off-island, the Bluegreens, and one from the Sacred Blessing Sanctuary, a meditation retreat with close links to the reserve. Saturday's volunteers from the sanctuary planted 200 nikau they had donated to the planting programme. They had been grown from seedlings and nurtured over four years by Alan Smith at the Sanctuary. More here

Buildings would 'recast' Owhiti as a modified bay – Environment Court
Plans to build two houses in the sand dunes at Owhiti Bay on Waiheke's pristine north-eastern coastline have been overturned by the Environment Court.
The developers had claimed that the buildings on the dunes would be of minimal visual impact, but the Court said the house's 98-metre frontage would significantly impact the current character of the beach. More here


A Garden of Eden at Te Matuku Bay
Driving out of Onetangi on Waiheke Road in the direction of Orapiu always reminds an Ostend dweller like me that a lot of the island is actually rural land, and the capacity for growing enough food to feed us all in our own back paddock is probably considerable and, at the moment, under-utilised.
However, a group of people committed to the idea of growing food locally have extended the thought into action on a piece of flat coastal land with a perfect view of the Te Matuku Bay oyster farm. More here
Speed reduction gets the thumbs up
Residents are backing a proposal to reduce the speed limit along one of the island's most dangerous roads.
The speed limit along Onetangi Rd is facing a reduction from 80kmh to 60kmh following the results of a survey sent to 8700 residents and home owners – including off-island property owners – by Auckland City Council. Islanders were asked if they approved of lowering the limit presently set at 80kmh from Ostend's Erua Rd to Waiata Rd in Onetangi. Of the 3023 residents that responded, 78 percent wanted the reduction. More here
SpeedDoc wants whale snaps
The Department of Conservation is calling all whale watchers to send in photos of a southern right whale spotted around Waiheke's northern beaches.
Since a story appeared in the Waiheke Marketplace last Wednesday, DOC has had several phone calls confirming the whale had barnacles on its head – typical of the species.  Now programme manager biodiversity Phil Brown is asking anyone who took a close-up photo, or a snap that shows the whale's head to email him a high resolution photo so he can catalogue it. More here
Island leader found guilty of whacking teenager
A Waiheke Community Board member has been found guilty of assaulting a 14-year-old boy who wandered on to his property looking for a lost dog. Nobilangelo Ceramalus hit the boy, who cannot be identified, on the head with a branch that was described as "two inches wide" and "two or three feet long" on the afternoon of May 25.   More here
Working hard to make a difference
On 4 July volunteers from the Village Project left for Uganda, on their second trip to help build classrooms for orphaned and displaced children. They sent in the following update of their adventures. As you can tell we're totally immersed in our mission, so much so that this article reaches you a little late. Just blame the pigeon we tied it to. We've got a sweet crew, our Watoto guide Phillip, and our bus driver Antonio. Our bus is rocking. We kind of feel like a touring band from the 70s on a road trip. Perfect. We've even got a ukulele on board. More here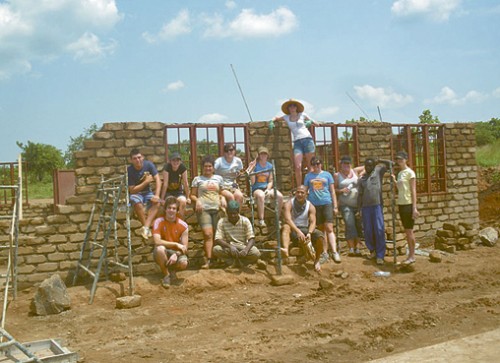 A wealth of experience to offer – new board candidate Don McKenzie
A man who has given 38 years of service to a wide range of national organisations, physiotherapist Don McKenzie is now putting his hand up for the local board elections in October. An island resident for 11 years, he originally came to Waiheke to retire and indulge in his passion for sailing. More here
Waiheke style cycle chic
Clothes from Waiheke artist and designer Rose McLeod took centre stage at the Frocks on Bikes 'Cycle Style Auckland' fashion show last week. The event was a celebration of all things cycle-centric and the 450 guests were treated to a fashion show with a difference. More here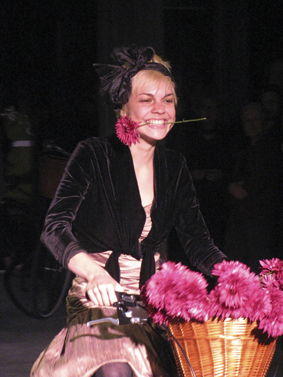 Nothing is going to change' on Matiatia parking
Concerns car park changes at Matiatia will leave Owhanake car park – more than half a kilometre from the ferry terminal – as the sole commuter car park have been dismissed by Hauraki Gulf Islands transport manager Reg Cuthers. Speaking to Gulf News, Mr Cuthers said reports all of the car parking would be removed from the foreshore area was "not my take on things." He said the planned changes would see the rental car companies moved and the grass car park, which he said was "not suitable for all weather parking," drained. More here

Heritage Funding
Applications for funding towards heritage projects are now open for 2010-2011. Every year Auckland City Council awards $100,000 to heritage projects from the Natural Heritage and Cultural Heritage funds. The Natural Heritage fund donates $50,000 towards projects on ecological land in the Hauraki Gulf islands or conservation projects on private land. Projects must directly improve the environment, and can include weed and pest control, native re-vegetation or fencing.  More here

Toxic Sea Slug Returns
The Auckland Regional Council is re-issuing a warning over toxic sea slugs, found to be re-invading water at Gulf beaches. The creatures were spotted during a recent dive survey at Long Bay, Browns Bay, Narrow Neck Beach, Cheltenham, Bayswater, Mission Bay and Illiomama Rock – near Rangitoto Island. More here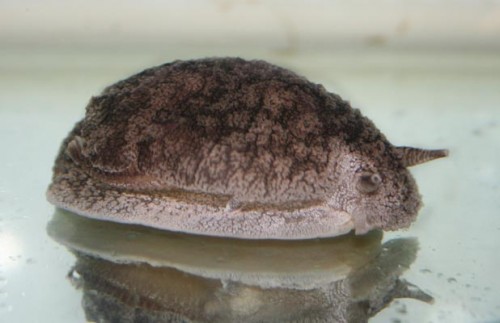 Protest Over Signs
A TOURISM operator is asking why his olive grove and farm shop will have to stay a "well-kept secret" after years of battling to let visitors know the location. More here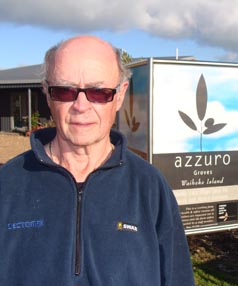 GILL ALCOCK – Waiheke Marketplace
TV One Breakfast show's roving weather reporter Tamati Coffey flew in from Oman to present the day's forecast from Mudbrick Vineyard as part of the Tasty Thursday Tour to find a new flavour for Bluebird chips. More here

DIANA WORTHY – Waiheke Marketplace
THE AUCKLAND City Council is steaming ahead with plans to reallocate parking at Matiatia, despite local opposition. More here
DIANA WORTHY – Waiheke Marketplace
A proposal for Waiheke to become a special reserve is gathering pace with support from residents, backing from politicians, and new plans to hold workshops. More here
GILL ALCOCK – Waiheke Marketplace
The oldest president passed the baton to the youngest at a celebration of all things Rotary. More here
Stars "dip" in for St John ambulance
Pouring rain, freezing temperatures and a hefty swell held no fear for the island's good Samaritans who gathered on two beaches for a midwinter dip in aid of the St John ambulance "Flash a Light" appeal. At Little Oneroa, TV personalities Jim Mora and Mary Lambie marshalled the crowds along with "surprise" guest Auckland MP Nikki Kaye. And, to the surprise of organiser St John team leader Mitch Mullooly, all three joined her in the water. More here

ARC "gets ratty"after Bellbird death
The Auckland Regional Council (ARC) chairman is calling for a revenge strike on rats after the remains of a dead bellbird were discovered last week. The bird was one of 100 released on the island last month following their translocation from Tiritiri Matangi Island and a regional park on the mainland. The remains were found by Auckland Regional Council chairman Mike Lee and park ranger Andy Spence in a road reserve along Glenbrook Road, Rocky Bay. More here

Spartacus star to call Waiheke home
Manu Bennett, star of cult television show Spartacus Blood and Sand, has bought land on Waiheke to build a home for his family. The 10-acre lifestyle block, a recent subdivision of award-winning olive growers Rangihoua Estate, includes a three-acre olive grove and an acre of archeological value. More here

Football Fever hits Theatre
Islanders wanting to get together and watch the FIFA World Cup are being invited to free, live screenings of all matches. They are being shown at the community theatre, at Artworks in Oneroa, by Argentinean café manager and soccer fan Sergio Rodriguez, who suggested the idea to theatre trust chairman Colin Beardon some months ago. All matches are being screened up to and including the final on July 11 and the café will be open, offering hot and cold beverages and a range of snacks. The theatre was recently able to erect a satellite dish on its roof after permission had been initially refused by Auckland City Council.  More here

Soccer: All Whites regroup for Paraguay clash
If Tony Lochhead didn't know the impact of what the All Whites had achieved against Italy, he found out when he checked his emails and Facebook messages.  The All Whites flew back from Nelspruit to their base on the outskirts of Johannesburg immediately after their historic 1-1 draw with Italy and Lochhead couldn't resist checking his messages. By Michael Brown in Johannesburg. More here
Go The All Whites!!
Live coverage at Artworks and Malones.
Ardern on Waiheke to discuss childcare funding cuts
A meeting to discuss the effects of the 2010 Budget on early childcare education on Waiheke next Monday has attracted the attention of Labour list MP Jacinda Ardern.  Senior teacher at Waiheke Community Childcare Ute Hoffmann is very pleased that Ms Ardern will be listening to her centre's concerns about losing funding in person.
"The thing that will impact on our centre quite dramatically will be the change in funding for registered teachers," she says. "Providing quality care means qualified and professional early childhood teachers and the government funding is apportioned in funding bands according to what percentage of the teaching staff is qualified. In our case we have more than 80 percent qualified staff. This very band however will be affected by a decrease in funding of 6 percent." More here

National headlines as board member faces charge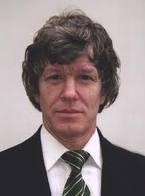 Waiheke Community Board member Nobilangelo Ceramalus appeared in the Auckland District Court last Friday facing a charge of assaulting a 14-year-old boy with a length of timber. He pleaded not guilty and was remanded on bail to appear at a defended hearing on 26 July.
Mr Ceramalus has vehemently denied the charge that made national headlines over the weekend. He was initially granted name suppression until last Friday but the suppression order was breached last week by another Waiheke publication and Mr Ceramalus says he is considering taking the matter to the Attorney General. More here
Stories provide entertainment fit for a queen

The biannual Queen's Birthday Weekend Waiheke Festival of Story dodged the weather and provided a feast of entertainment for people big and small.
Punters declared the opening night at Artworks "stunning", while Ostend market-goers enjoyed the antics of the festival passport officials, zealously stamping children's activity passports. More here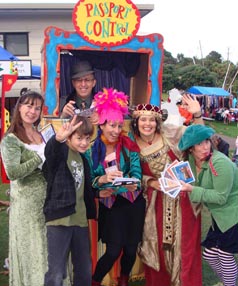 Hospital bus goes back to "old" stop

Residents are celebrating a change of heart by the city transport authority, which plans to return the hospital bus stop back to its original spot near to ferries in Auckland. It will revert to its original site opposite the ferry building in two weeks' time. The switch comes two years since the issue was first raised with the transport authority by Auckland Regional Council chairman Mike Lee. Auckland Regional Transport Authority (ARTA) relocated the 283 hospital bus stop in July 2008. The bus goes to Greenlane outpatients' clinics via Auckland Hospital and is the only form of transport for sick islanders whose cars are on Waiheke.

It'll be all fight on the night
A sell-out crowd from Waiheke's first Fighting Spirit fight night was treated to some first class action as the island's finest tool on opponents from Great Barrier and beyond. The night featured a mix of kickboxing and Queensbury Rules bouts with a number of fighters making their competitive ring debuts. More here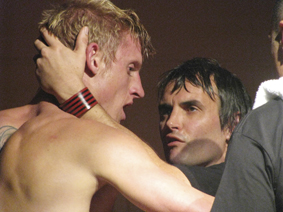 Community board takes cell phone issue to the top
Hauraki Gulf Councillor Denise Roche will ask Prime Minister John Key, Environment Minister Nick Smith and Auckland Central MP Nikki Kaye for a review of the national standards on electro-magnetic radiation. The decision comes in the wake of the last community board meeting amid growing concern about the location of cell phone equipment on the island.  More here
DIANA WORTHY – Waiheke Marketplace
Two of the island's main childcare centres are speaking out about budget cuts they say will limit opportunities for Waiheke youngsters. Government announced in its budget last week it will only fund Early Childhood Education (ECE) services to provide 80 percent of registered teachers. It plans to spend the cash that is saved on helping people living in deprived areas or circumstances get early education for their children too. Until now, centres have been encouraged to ensure as many of their teachers as possible are registered ones and they have been funded for all of them. The new ruling, which comes into effect next February, will see centres currently funded for between 80 percent and 100 percent of registered teachers only receiving funding for 80 percent of them. More here …..

Mayor says Waiheke's had its "fair share"
George Gardner – Waiheke Marketplace
Auckland mayor John Banks has told Waiheke it has done "pretty well under two Banks' councils" but it shouldn't expect any extra under the supercity. Mr Banks visited the Waiheke Community Board for informal talks last week, staying on to speak at the beginning of the board's monthly public forum and taking questions from the floor. He paid tribute to former board chairman Ray Ericson and incumbent chairman Tony Sears for their lengthy service, saying the Waiheke board was one of council's "best". And he encouraged islanders' interest in Waiheke becoming a Unesco biosphere reserve, agreeing it was "a unique part of the world". "It is one of the most beautiful places in the world and we need to protect its heritage." But on the subject of future funding he was firm, saying Waiheke had had its "fair share". "Waiheke has needed more investment because of its idiosyncratic structural environment, with more structural challenges than any other part of Auckland City. More here
Wine, White sand and watersports on New Zealand's Waiheke Island
By Jonathan Ray
Last updated at 2:39 PM on 16th May 2010
Auckland can be wet. In fact, it was bucketing down when I poked my nose out of the hotel and promptly poked it in again, driven back by horizontal rain. I'd promised myself a 24-hour jaunt to nearby Waiheke Island, but was having second thoughts. The doom-monger of a concierge was delighted. 'If it carries on like this, they'll cancel the ferry,' he said, happily sucking his teeth. 'And if they don't cancel it, the trip across will be very, v-e-r-y choppy. If they do get you there, it won't be much fun. I'd stay put. You could always go to a museum. Or a movie, except it'll probably be sold out.'  Well, I'd done the museums already (the Auckland War Memorial Museum is an absolute cracker) and I hadn't travelled 11,000 miles just to go to the flicks. It was Waiheke or bust. I struggled down to the ferry terminal with my bags and just as I was debating whether or not to commit to a ticket, a miraculous thing happened. The rain suddenly cleared, leaving a striking double rainbow in its wake, the clouds scudding away to reveal a bright, blue sky. All aboard, Waiheke here we come. More here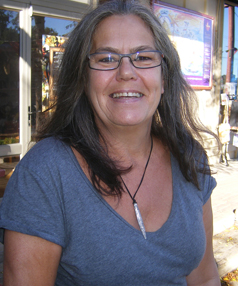 Susi celebrates soaring successes
Diana Worthy, Waiheke Marketplace
An island documentary filmmaker is celebrating the landing of a top job as her latest film goes from strength to strength. Resident Susi Newborn is to take up the reins as executive director of Women in Film and Television New Zealand (WIFT NZ) early next month. WIFT NZ is a not-for-profit organisation that advocates for women in the screen industries. More here

Emergencies come under spotlight
Waiheke's councillor is urging residents to find out how isthmus emergency management authorities think Waiheke should prepare for a natural disaster. Hauraki Gulf islands' councillor Denise Roche wants people to attend an Auckland Civil Defence seminar about emergency planning and ask questions. It will be on Thursday, June 3 at Ostend Memorial Hall, between 7pm and 8.30pm. Auckland City Council says it is essential to book a place by calling the Ostend service centre on 372 5905. More here
Politicians prepare for election battle
Diana Worthy, Waiheke Marketplace
Auckland Regional Council chairman Mike Lee is vowing to help Waiheke as he and other local government politicians prepare for supercity elections this October.
Longtime island resident Mr Lee is expected to stand as an independent candidate for the supercity's new Waitamata and Gulf ward, in which Waiheke sits.
It is likely he will be backed by the left-wing City Vision group and will be facing one of two possible Citizen and Ratepayers (C&R) candidates now that Michael Barnett has decided to stand down.
C&R has yet to make a decision whether it will be Greg Moyle or Ken Baguley – both are current Auckland City councillors.
Meanwhile, Mr Lee says he will be standing on his record and his own programme. "If endorsed by City Vision, I will be campaigning in the city part of the ward with City Vision local board candidates, and in the Gulf with Denise Roche on Waiheke and like-minded independents on Great Barrier." More here
Waiheke scores big at International Wine Challenge
Two Waiheke vineyards have been awarded medals at the International Wine Challenge in London.Passage Rock Wines and Man O' War Vineyards both won gold and silver medals at the challenge which is the world's largest wine competition attracting over 1000 entries.In the international syrah class only 13 gold medals were awarded. Just three of these went to New Zealand wines with two of the three going to Passage Rock's Reserve Syrah 2008 and Man O' War's Dreadnought which also won gold at the Decanter World Wine Awards in the same week.Man O' War's vineyard manager Matt Allen says, "The whole team is on a real high following the results and its great reward for everyone involved, knowing firsthand the hard yards required for such recognition. "2008 was a truly amazing vintage to be a part of and the awards are further endorsement that wines produced from little old Waiheke can stand proud on a world stage." More here
Waiheke gets ready to rumble
Waiheke's kickboxers have been training hard under the watchful eye of three-time titleholder Duan Marshall for the upcoming 'Fighting Spirit' fight night. After hosting two fight nights on the mainland, Duan decided it was time to "give Waihekeans a good night out" and set about organising the event, which will include four boxing matches and six kickboxing bouts.
The night will also include a title fight – the first ever to be held on Waiheke –  for the New Zealand Light Welterweight crown featuring Great Barrier Island's Logan Golaboski and a Waiheke vs Great Barrier bout.
The Waiheke fighters include Deja Finn, Jesse Rudolph, Brent Ivory, Karen Croawell, Bill Howes, Serge Roberts, John Headley and Matai Stewart. More here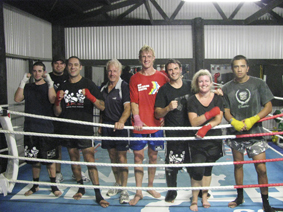 20th May 2010:
Mike Morgan moves to a new property in Waihi next week.  As Alex Stone, Gulf News columnist and this weeks Guest editor writes:
"It's a good-sized long-drop out the back".  This is the official reason Mike Morgan is giving for his move next week, to a new property in Waihi.
The other reason, of course, is that extra studio space for Waiheke's artist laureate, has simply become unaffordable.  So a great charater must leave us. We will miss him.
His cast of characters, with their funny shadows, improbable knees and oddball activities, will now take flight with him, and inhabit that strange space created by the hole where a hill used to be.
Let's send him and Lucy, the car with flames on her side, into their new adventures in the finest style we can muster.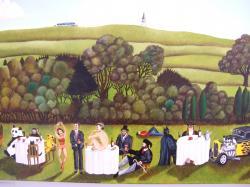 Campaign on 'shameful end' to recycling wins newspaper award
Gulf News was a finalist in the 'Best All Round Newspaper' award and again won its class in the coveted 'Community Involvement' section of the New Zealand Community Newspaper Association awards in Queenstown last weekend.
Reporter Sean Gillespie also won the young photographer award and was a finalist in the young journalist awards for the under 7500 circulation papers.
It was the eighth win in the community involvement category for Gulf News that ran a rigorous but ultimately unsuccessful campaign to save the island's long-standing recycling initiatives.  The paper most recently won community newspaper awards for campaigns on massive rate rises for islanders in 2006 and for obtaining long-denied figures on council revenue from the island in 2007.  More here
Bellbird Release
DIANA WORTHY – Waiheke Marketplace
Waiheke Islanders turned up in their droves at the weekend for a historic release of sweet-singing bellbirds, hailed as one of the most complex translocations ever undertaken.
More than 100 people of all ages gathered at Whakanewha Regional Park under grey skies on Sunday morning, ready to witness the release of a dozen birds at a site along the park's Nikau track.
The same numbers were being released simultaneously on Waiheke's Fenwick reserve, on Motuihe island, and at a Hamilton reserve.  More here

Teen Alcohol Death a Timely reminder
GILL ALCOCK – Waiheke Marketplace
Community heads are calling for parents to take greater responsibility over their children's drinking following the death of a student at King's College.
Waiheke High School principal Neil Watson, deputy principal and Waiheke Community Board chairman Tony Sears and Waiheke police youth aid officer Steve Clark say they don't want to see a repeat of what happened to 16-year-old James Webster occurring to any child on Waiheke.
They say there has been a dramatic increase in underage drinking on the island with younger and younger children involved.
Mr Watson says there is a misplaced feeling on this island that children are safe.
"We live in a defined space, we know our neighbours but the dangers are there.
"I am really concerned about our young people drinking alcohol. Although they are not our responsibility when they drink outside of school hours, it is affecting our kids when they are at school.
"Parents need to remember their legal obligations and not give youngsters alcohol." More here
Waiheke Prepares for Rugby World Cup
Islanders are preparing for a bumper spring next year as Rugby World Cup organisers and tourism operators get busy on the isthmus.   Holiday accommodation providers on Waiheke are already reporting increasing enquiries from visitors to the Rugby World Cup and from homeowners interested in renting out their properties.  Ferry companies, though, say they have yet to firm up plans over any extra sailings or special deals for rugby fans wanting to stay on the island. More here

Smiles all round after Cannes
A Waiheke film about two peace activists is stirring up interest around the globe after its showing in Cannes. The 47-minute film, "Kit and Maynie. Tea, Scones and Nuclear Disarmament", was made last year by Claudia Pond Eyley and island resident Susi Newborn.
It had its New Zealand premier at the Documentary Edge Festival in March, where it drew the attention of international film distributor Smiley Faces. More here
Boat Comes in for Keen Volunteers
The arrival of a new boat for the island's volunteer coastguard is charting a course for even more successful rescues following accolades last year.
The shiny, new red vessel swept into Matiatia harbour on Sunday afternoon flanked by four escorts from other coastguard crews on the mainland.
Cheers went up from Waiheke Coastguard volunteers and onlookers as the escort vessels Lion Foundation Rescue, Trillian Rescue Alpha, Howick Rescue 1 and NZCT Rescue North Harbour sounded their horns in unison to announce the new arrival. More here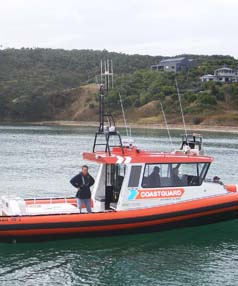 Riot act read over library plans
The proposed new library design for Oneroa has been criticised as looking "hardly out of place in a developers light industrial park anywhere in the country" by a spokesman from the Waiheke Library Input Group.
Addressing the Waiheke Community Board recently, Nigel Cook said the new design for the library would squander "virtually our only shot at getting a symbolic building." More here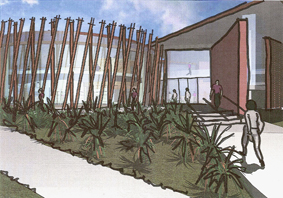 Three Waiheke restaurants scoop Metro awards.
Waiheke restaurants Te Whau, Cable Bay and Casita Miro were among the winners at the Metro magazine Restaurant of the Year awards announced at a dinner in Auckland this week.
Te Whau was named 'Best Rural Restaurant' for the third year in a row. Metro judges commented that "their excellent staff move comfortably from table to table, chatting here, fixing a problem there, getting everything just right. The food is lovely, and the wine, led by Te Whau's own glorious reds, is something special again."
"Three in a row, wow, it's a fantastic result!" says co-owner Tony Forsyth. "I've often said that consistency is the hallmark of a good eatery.   more here
Young Waiheke rider fifth in national championships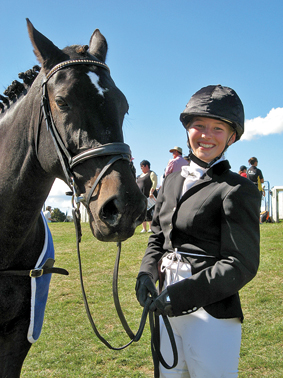 Rider Holly Brown with her mare Ebony Blue is the first Waiheke rider to reach the National Pony Club Championships. Photo Mandy Brown.
Waiheke rider Holly Brown and her mare Ebony Blue completed the crosscountry section with a clear round and were placed fifth overall in the national Pony Club Pony Club Championships in Taranaki last weekend.
Holly and Auckland rider Jeannie Pattison, riding for the Auckland Area team, were fourth overall in the Under 95cm event for riders. Twelve teams and 120 riders from all over the country took part.


Onetangi Beach Races
Onetangi Beach Races, Auckland's most iconic beach event has been going for over 100 years and gets better and better. Take an early ferry to Waiheke Island and a bus will take you straight to the Beach Races.
Waiheke Island brings you the best family day out you'll have this summer.
Watch or join in, just don't miss out!

rumour is a drunk ex all black winger from wellington spew wilson,did the ram.


Olive pickers work to keep up with ripe harvest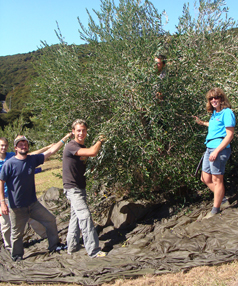 Olive pickers have been labouring for long hours to keep up with the quickly ripening fruit since harvest began at the start of the month.
Rangihoua Estate processed five tonnes of fruit in its first week, with several more weeks of picking to come.
Grove owner Anne Stanimiroff says she and her team pick the fruit when around 80 percent of it is black. They rake the olives down onto parachutes where they are gathered up and transported in trays.
The olives are pressed in "one of the Ferraris of the olive pressing world", according to plant manager Gavin Sayles – the Pegaso-500 olive press from Florence.
more news from Waiheke Marketplace here
High-flying teenager acts out new life on "Shorty"
By: GEORGE GARDNER – Waiheke Marketplace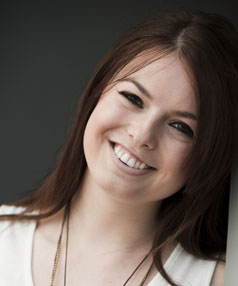 Photo: SOUTH PACIFIC PICTURES
WAIHEKE GIRL: Sophia Johnson plays Loren Fitzpatrick in Shortland Street
The acting career of a former Waiheke High School head girl has been launched on New Zealand's favourite soap opera.
Sophia Johnson plays the part of teenager Loren Fitzpatrick on Shortland Street.
She was cast in the role in October and says she is enjoying working with the other actors who are "fun to hang out with".
"A lot of them have helped me, especially Angela Bloomfield who plays Rachel McKenna."
But she is still getting used to being recognised and says she was shocked when two young girls asked her for her autograph on location last week – just one day after her first appearance on the TV2 show.
The 19-year-old actress is the daughter of poet, novelist and former Waiheke Marketplace columnist Mike Johnson. She excelled at school in drama, politics and public speaking and was voted school Dux in 2007.

Bumper Year for visitors
Auckland's tourism boss is reporting a strong upturn in visitor numbers to the island this year, with growth predicted to rise even higher in future.
Tourism Auckland bookings are already up on last year, with busy ferries and full accommodation making for a bumper holiday season.
Tourism Auckland chief Graeme Osborne says it has been a great summer for the island so far, with the trend towards last-minute bookings pushing numbers up even higher.
He believes the recession has made people more wary about booking holidays abroad and people are looking closer to home for their break, with a big rise also in Australian visitors.
He says the island's growing status as an environmentally attractive place to visit is complementing its reputation as the place to go for fine wine, good restaurants, clean beaches, and the arts.
And he believes Waiheke offers a great events calendar, evenly spaced to offer something for everyone throughout the summer months.
Mr Osborne pays particular tribute to the island's Transition Towns' movement and says features such as community gardens and an attractive environment give Waiheke a real point of difference.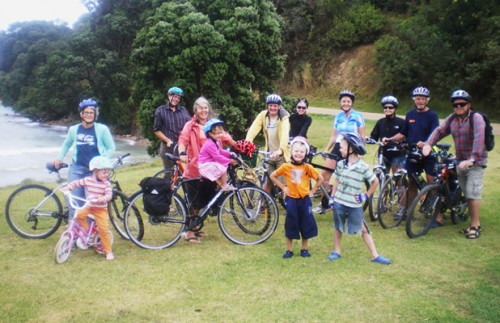 Auckland Central MP Nikki Kaye has been showing energetic support for the island's bid to be included in a national cycle trail, despite a recent injury.
On Saturday, 12 members of Cycle Action Waiheke and Nikki Kaye headed out to ride some of the proposed trail – on the Esplanade, through Surfdale, and along Wilma Road.
The proposed Waiheke trail is presently going through the application process to be part of the New Zealand Cycle Trail.
Government says the process is highly competitive, with 53 applications already lodged for inclusion.
A decision is likely to be made by mid-February on the successful trails.
Nikki is a keen sportswoman and has been supporting Cycle Action Waiheke in its bid for the island to be included.
She has been looking forward to riding some of the island's trail ever since the application was lodged, despite breaking her ankle late last year in a bicycle accident.
"When we put in the application, I never realised how beautiful the trail really was and how many day-trippers and locals are already out there experiencing it.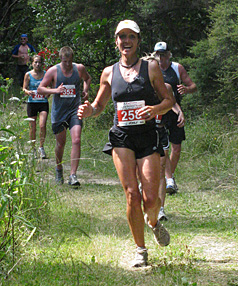 Wharf to Wharf a hot favourite for runners
By GILL ALCOCK – Waiheke Marketplace
Kelly Keenan
LAST RUN DOWN: Kelly Keenan comes down the "home straight" at Matiatia
Relevant offers
Almost 900 runners and walkers of all ages took to the roads of Waiheke in the scorching sun on Saturday to take part in the annual Wharf to Wharf race.
While many enjoyed the "fun run and walk" at a leisurely pace, serious runners battled out the course from one end of the island to the other.
Scott Winton left the rest of the field in his wake as he charged over the finish line in one hour, 35 minutes and 49 seconds – almost five minutes ahead of his nearest rival Colin Earwaker and close to four hours faster than the last finisher of the run from Orapiu to Matiatia, Alex Weir.
Waiheke got high praise last Friday when it was hailed as ideal for kicking off a campaign to clean up litter.
The tribute came from Environment minister Nick Smith who was on the island for the country's Keep New Zealand Beautiful week.
A blessing by Waiheke's kaumatua Wally Manahi launched the campaign at Matiatia, which marked the beginning of the biggest single annual coastal clean up event in the country.
Lake Taupo and three visitor destinations on the West Coast were chosen alongside Waiheke for this year's New Zealand Spring Clean.
On the island, the campaign has involved school children, community groups, businesses and individuals who have scanned kilometres of coastline to collect plastic bottles, old tyres, and other waste.
They were helped along by "Zero Hero", an unidentifiable mascot who appeared at different locations to lend a hand.
more here
Peace-lovers plan for "worldwide walk"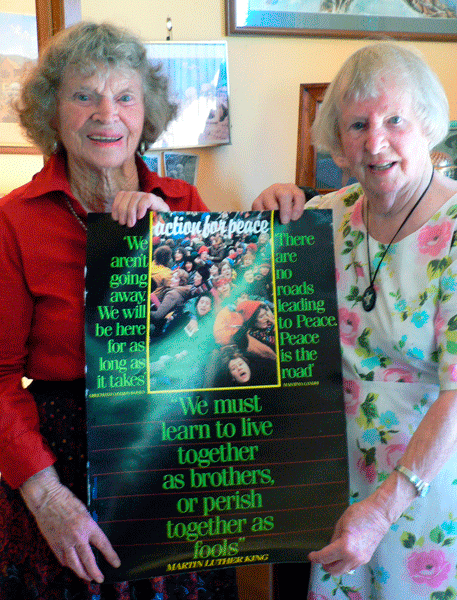 Walk for peace: Maynie Thomson and Kara Nelson are planning a Waiheke
peace walk as a prelude to the World March for Peace and Non-violence
By Gill Alcock
All peace-lovers, people of compassion and advocates for non-violence are invited to a meeting to discuss joining a worldwide march for peace.
The meeting, at 11am this Sunday, 31 May, at the Catherine Mitchell Centre on Putiki Road in Ostend, will explain the World March for Peace and Non-violence planned for later this year, and invite islanders to attend a prelude march on Waiheke.
The official march will be a series of walks in different countries on every continent starting with New Zealand, on 2 October, and ending in South America on 2 January 2010. Organisers say it will be the first of its kind.
New Zealand was chosen as the first country to take part, as it is the first country past the dateline, says peace campaigner and Waiheke resident Skate. It was also the first to give the vote to women and the first to be nuclear free.
more here

more news from Gulf News here
Water bottles hope to change Waiheke's drinking habits
Thursday, 28 January 2010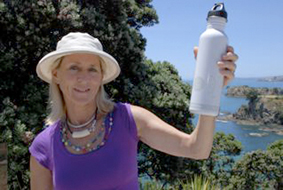 Lady Pippa Blake endorses the stainless steel water bottles launched recently by the Village Project. Photo credit Don Robertson
The tireless Emily McDonald from Waiheke Fruit and Veg and her Waiheke-based Village Project team are spearheading yet another innovative fundraising project to help war-affected orphans in Uganda lead a more hopeful life.
This time, the cause is environmental as well as social.
The project has had 3000 stainless steel water bottles manufactured in a bid to rid the island of plastic water bottles as well as fundraise for a new classroom for the school in the Watoto village,  Gulu, Uganda.
"I'd like to start to change the culture of buying and reusing plastic water bottles and encourage people in our community to use a healthier vessel," says Emily.
The motto for the campaign is one planet, one life, take one step, use one bottle.
And the project already has a high profile supporter. Lady Pippa Blake, widow of yachtsman Sir Peter Blake, has signed a pledge in the UK never to buy or use a plastic water bottle again.
"Lady Pippa is very excited about our idea as she sees the massively positive environmental and health impacts of reducing plastic water bottles."
New sculpture, 30,000 years in the making
Thursday, 28 January 2010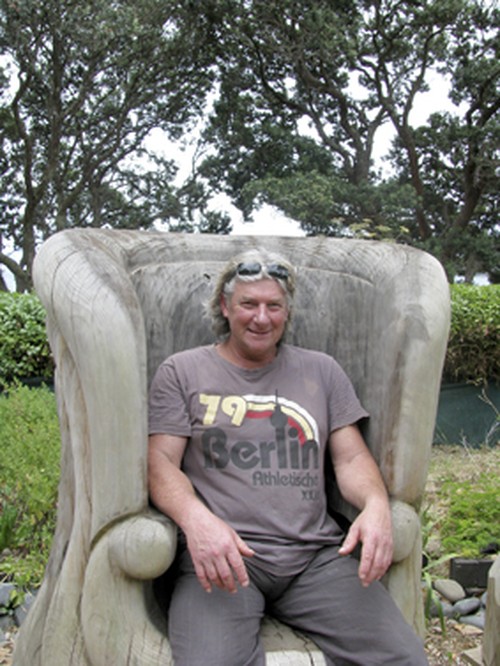 Sculptor John Freeman on one of his chairs by Oneroa beach.
After eight years working on the island, sculptor John Freeman has recently opened a gallery in Ocean View Road to showcase his amazing range of swamp Kauri sculpture, woodturning and Oamaru stonework.
However, perhaps without realising, most people on the island will already be familiar with some of John's work.
The table at the Matiatia Wharf coffee bar, the ornate wooden thrones you pass on the way to Oneroa beach, the koru designs opposite the Post Office – are all examples of John's craft.
Yet these only offer a glimpse of the stunning work John confesses sometimes consumes him.
John's stated vision is to transform 'thought into form', and the medium he has selected for this metaphysical transformation is ancient Kauri wood, more commonly known as swamp Kauri.
National beach clean-up launched on Waiheke
Thursday, 10 September 2009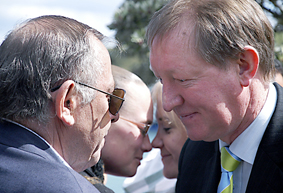 Dr Stuart Reuben and Jac's Carter (left) welcoming Environment Minister Nick Smith and Auckland Central MP Nikki Kaye to Waiheke last Friday.
The Matiatia foreshore hosted the national launch of Keep New Zealand Beautiful's annual clean-up week last Friday.
Visiting dignitaries, including the Minister for the Environment, Dr Nick Smith, KNZB chief executive Simon Johnston, Foodstuffs retail manager Murray Jordan, KNZB chairman Tony Rush and Auckland Central MP Nikki Kaye got off the 11am sailing to a welcoming party of local politicians, interested groups and beach-clean up volunteers.
After an official blessing from Kaumatua Wally Manahi, there were speeches from Tony Rush, Dr Smith and Nikki Kaye – who Dr Smith jokingly referred to at one point as "the MP for Waiheke".
Dr Smith reiterated the government's commitment to leaving future generations with a "clean, tidy and beautiful legacy" and admitted there was work to do to make the reality truly fit the 'clean, green, 100 per cent pure' branding, as we currently produce about four million tons of rubbish nationally per year.
more here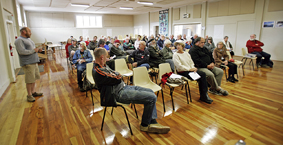 Unique opportunity" with super city shake-up
Thursday, 28 May 2009
The intention of the community board at the moment is to be proactive about where we go for Waiheke so we don't want to wait too long to see what the select committee comes back to us with. We will actually be proactive and the purpose of this meeting is to start that ball rolling.
more here

It really was a privilege to work with Simon. He brought very special qualities to both the newspaper and our workplace – an irrepressible charm, a rather unholy sense of humour and a very healthy disrespect for authority, all of which helped make him one of the best reporters I've worked with. Not to mention his steel-trap mind and, of course, his fluent, incisive and often devastatingly effective writing. He was as much at home reviewing his beloved films as unravelling the politics that emanate from the city council like foul air from Mordor.
As a journalist, he had one of the best bullshit detectors around. He had little time for those peddling snake oil, whether they were in pursuit of personal fortune or world peace. Snake oil was snake oil to Simon, no matter the flavour. That was one of the things that set him apart as a journalist.
more here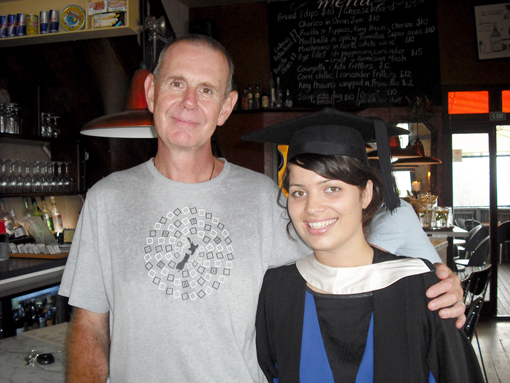 Simon Johnston (1956-2009)

Super City reprieve for Waiheke recycling
4:00AM Friday May 15, 2009
By Eloise Gibson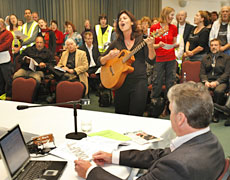 Anu Grace and fellow supporters. Photo / Kenny Rodger
Waiheke Island's recycling service has won a short reprieve while the city council checks whether it can sign a 10-year, $23 million contract under new Super City rules.
Councillors on the Auckland City development committee had been expected to vote yesterday in favour of replacing local recycling on Waiheke with a cheaper service run by mainland waste collector TransPacific Industries.
Instead, they delayed their decision so they could to gather more information, including on whether the Waiheke contract is likely to meet the standards of the Auckland Transition Agency.
The agency's job will be to restructure Auckland councils into a single entity by October next year.
Draft legislation says Auckland councils will not be able to enter contracts worth more than $20,000 lasting beyond June 2011 without the agency's permission.
On Wednesday, Auckland Central MP Nikki Kaye called on city councillors to delay the Waiheke decision in light of plans for a new Super City.
more here

Re-classification hits neighbours' pockets hard.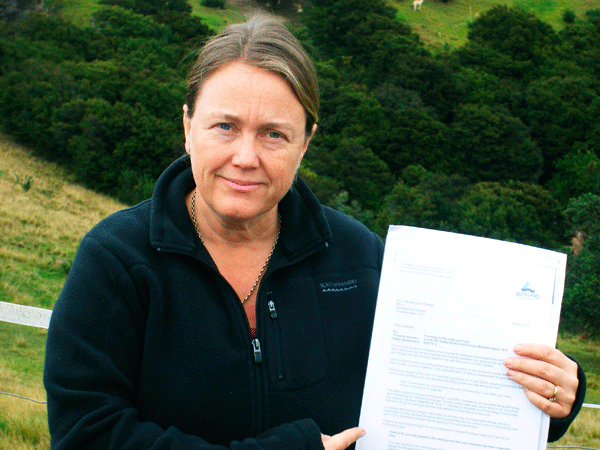 Diana Worthy
Owners of small lifestyle blocks facing costly changes in the way they are rated are joining forces in a bid to beat next week's deadline for objections.
Auckland City Council (ACC) sent out letters to 88 landowners on Monday last week telling them of proposed changes to the way their sections will be rated from July onwards.
The proposed reclassification of Rural 1 land to Non-residential means rises of no more than $7,800 for owners of land of less than five hectares and lacking any dwelling or obvious farming activity – according to council.
Council officers have also proposed that any land of more than five hectares will now be re-defined as Open spaces instead of Rural 1.
The proposal was discussed and agreed at ACC's finance and strategy committee meetings in November last year and February this year.
Both proposals are now contained in council's 10-year plan, open for public consultation until next Monday (18
May).
Now a group of neighbours living in the Te Whau area will be joining forces to try and stop the move.
Rothschild Terrace resident Barbara Breen told Waiheke Marketplace she had been advised to get together with other affected neighbours by ACC Hauraki Gulf Islands' councillor Denise Roche.
A number of small lifestyle block owners living around Te Whau and Kennedy Point would have received letters, according to Breen.
She said her own family would be facing a rise of around $11,000 – hiking up their total rates bill from $14,000 to $25,000 per year for their four separately-titled sections of land.
more here

Connecting the electrodes of queer wisdom to the nipples of bigotry and ignorance.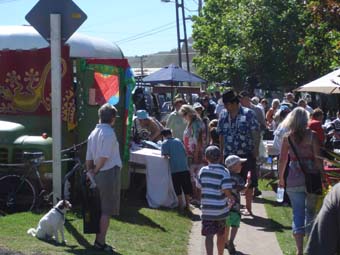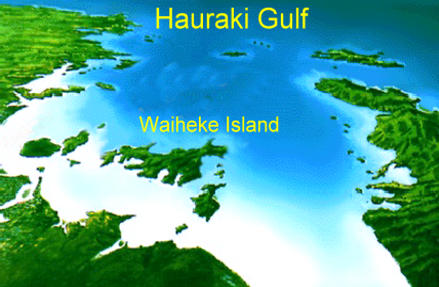 This post is tagged 2010 Rich List, alcohol, alcohol kids, Alex Stone, ARTA, Auckland City Council, Auckland Regional Transport Authority, Bellbird, Bellbird release, Bill Howes, Boxing Waiheke Island, Brent Ivory, Bruce Plested, Budget, Cable Bay, car park changes waiheke, Car Park Matiatia, Casita Miro, celebrity waiheke, cell phone waiheke, childcare education, childrens drinking, Civil Defence Waiheke, commuter carparks, Daily Mail, Deja Finn, Denise Roche, documentary filmmakers, dog attacks on sheep waiheke, dogs killing spree, Don Mackenzie, Duan Marshall, E.coli waiheke, emergency management, Fashion Show, ferry, Ferry Waiheke, Festival of story Waiheke, fight night, Fighting Spirit, Frocks on Bikes, Gill Alcock, Graeme Hart, Greenlane outpatients, Gulf News, Gulf News Waiheke, Harbourmasters, Hauraki Gulf, Herb Romaniuk, Herb Romaniuk spokesman, Heritage Funding Waiheke, Holly Brown, Jacinda Arden, Jacinda Ardern MP, Jesse Rudolph, Jim Mora, John Banks, John Headley, Karen Croawell, kickboxing, King's College, landslides waiheke, Lgoan Golaboski, Little Oneroa Stream, local board elections, local press, Loren Fitzpatrick, lower speed limit waiheke, Man O' War Vineyard, Marketplace, Marketplace Waiheke, Mary Lambie, Matai Stewart, Matariki String Quartet, Matiatia Direction Plan, Metro magazine, midwinter dip, Mike Lee, Mike Morgan Artist, Mike Morgan Waiheke, MP Nikki Kaye, Mudbrick Vineyard, National Business Review Rich List, National Pony Club Championships., New Zealand Light Welterweight Crown, news on waiheke, news waiheke, Nikau Tours Waiheke Island, Nikki Kaye, Nobilangelo Ceramalus guilty, Nobilangleo Ceramalus, nz herald, Olive pickers, olive press, Onetangi Beach Races, Owhanake Car Park, paraguay, parking matiatia, Passage Rock Wines, Phill Goff, Prime Minister John Key, Queens Birthday Weekend Waiheke, Rainbow Warriors, Ram, Rangihoua Estate, Ray Ericson, reallocate parking waiheke, Restaurant of the Year, roosters waiheke island, Rose McLeoa, Rugby World Cup, RWC Waiheke Island, school, Serge Roberts, sergeant Stephen Ambler, Shortland Street, Simon Johnston, Soccer 2010, Sophia Johnson, southern right wale waiheke, speed onetangi strait, Steve Ambler, supercity elections, Susi Newborn, swine flu waiheke, Tamati Coffey, Tamati waiheke, Tasty Thursday Tour, Te Whau, the All Whites, the Spencer Family, The Village Project, Tony Lochhead, Tony Sears, Toxic Sea Slug Waiheke, TV One Breakfast show, waiheke, Waiheke Artist, Waiheke Childcare, Waiheke Coast Guard, Waiheke Community Board, Waiheke Community Childcare, waiheke island, Waiheke Island News, Waiheke Kickboxing, Waiheke Library, Waiheke Marketplace, Waiheke Police, waiheke rain, Waiheke Rainbow Warriors, waiheke residents, Waiheke Supercity, waiheke weather, Waiheke Wine, Waiheke Wine Winners, Waitemata and Gulf Ward, watch the world cup 2010 on waiheke, water quality waiheke, waving flag song, whales waiheke island, WIFT NZ, Women in Film, world cup 2010 soccer, world cup 2010 waiheke big screens, World Peace March