Welcome to Waiheke Island,
Hauraki Gulf, New Zealand.
36'48" South 174'04" East

Waiheke Island has some of the most amazing beaches in the south pacific, not to mention the AMAZING sealife. Check out this video of 3 Orca Whales swimming underneath a yacht at Palm Beach.  Scroll down for more amazing Orca visits to Waiheke Island.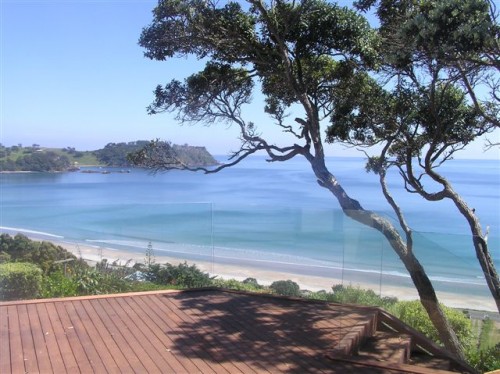 Onetangi Beach
Onetangi Beach, 2.5 km's of beautiful white sand and Waiheke's largest beach. Onetangi is also home to the Onetangi Beach Races, Auckland's most iconic event which has been going for over 100 years. A great swimming and fishing beach with superb surf when the northerly blows. With 2 bar / restaurants on the waters edge, Charlie Farleys and The Beachfront Cafe make sure Onetangi Beach is on your to see list.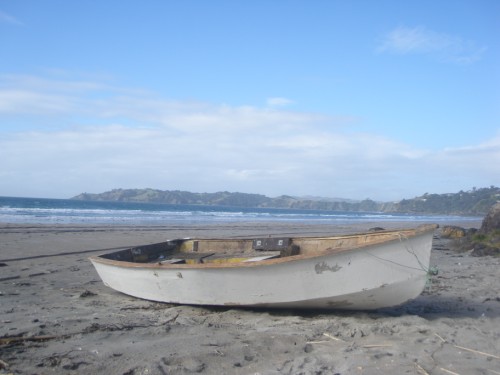 Onetangi Beach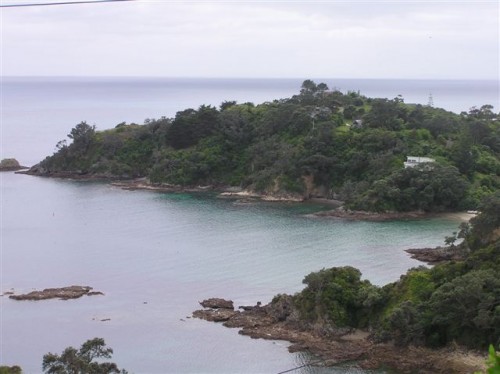 Sandy Bay
Sandy Bay is on the northern coastline of Waiheke Island. It is a great beach with safe swimming for kids and one of the few beaches where boats can be launched all year round. If you're lucky enough you might see a pod of Orcas swimming into Sandy Bay to feast on the resident stingrays.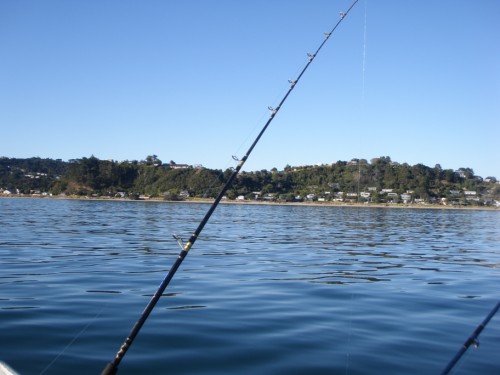 Onetangi Bay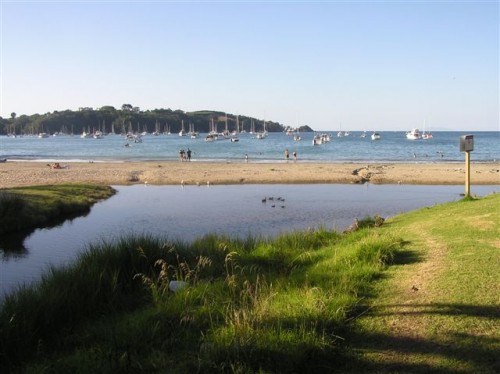 Little Oneroa
Little Oneroa is a small beach situated at the Eastern end of Oneroa Bay and within walking distance of Oneroa Village. This little beach has everything – free bbq's, a children's playground, an enormous grass area and a pristine white beach. Across the road from the beach is the Little Oneroa Beach Store, one of the islands few remaining beach stores.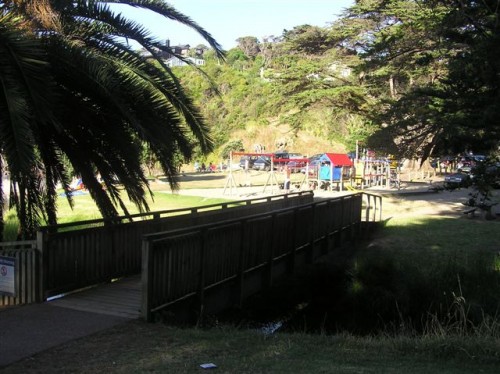 Little Oneroa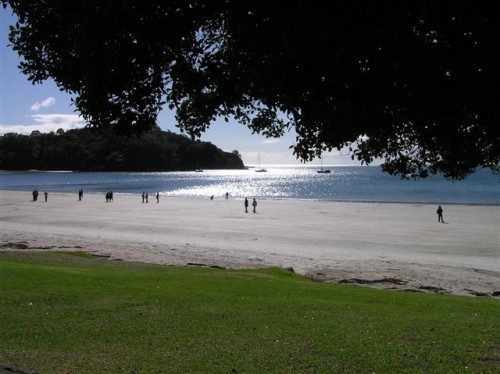 Oneroa Bay
Oneroa Bay is one of Waiheke's most celebrated beaches and a popular and safe anchorage for boaties seeking shelter from the predominant sou'wester winds.
At holiday weekends, in particular Christmas and New Year, the bay at night is a veritable fairy grove masthead lights. Locals sometimes refer to Oneroa Bay as Poo Bay because of all the boats that anchor there. However regulations now mean boaties must not discharge waste within 500m of the shore. More here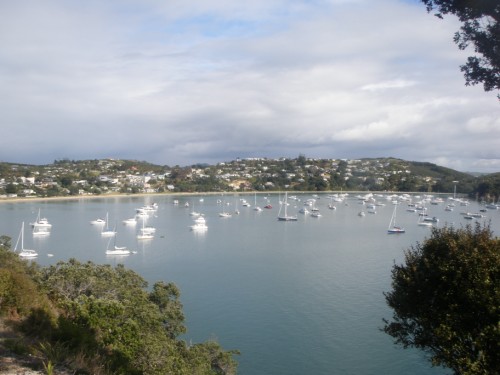 Oneroa Bay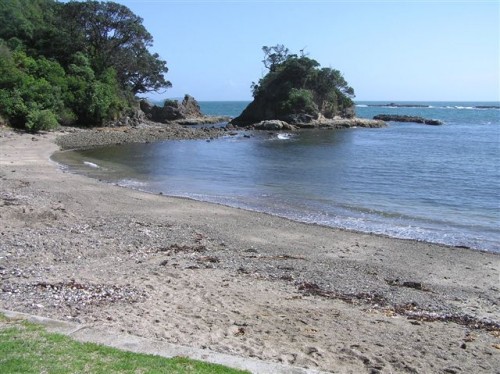 Enclosure Bay
Enclosure Bay is partially cut off from the sea by interesting rock formations, making it a very sheltered area safe for swimming. With lots of rock pools and coastal rock outcrops this is a great little beach for kids to go exploring. Great fishing off the rocks and the snorkelling can be amazing too – if you're lucky you might get to see some sea horses!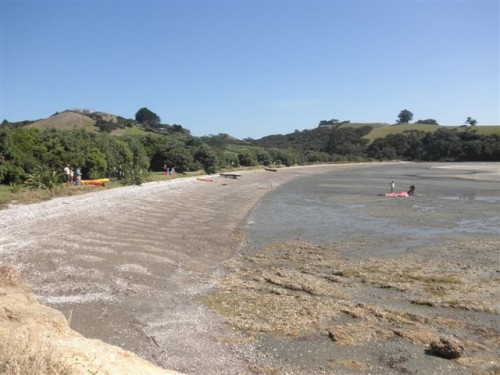 Whakanewha Regional Park
On the south side of the Waiheke Island, Whakanewha Regional Park is known for its mature coastal forest with taraire, kohekohe and old kanuka trees, cascading streams, and sweeping crescent-shaped beach cut in two by a forested headland. A large wetland is home to some uncommon birds, bittern, banded rail, spotless crake and the New Zealand dotterel.  At high tide the water is shallow, warm and ideal for children. Picnic spots on the foreshore are plentiful. At low tide a broad expanse of sandy tidal flats is revealed. The beach is divided into two sections by the pa promontory. Whakanewha is also home to a campground. The accessible, large, flat campground is set back from a beautiful bay and child friendly beach, and the park offers a number of places to explore and escape from washing up duties. The camping areas are sheltered by native plantings which help ensure bird watchers get tent side viewing and to top it off the park rangers give all comers a friendly island welcome.
Gannet Rock
Just 1 km off Hooks Point lies Gannet Rock. One of 5 gannet colonies in New Zealand that thrive each year with thousands of new borns. Gannets are often diving the bays of Waiheke and soaring its coasline. Gannet Rock is a good diving spot and has a large sea cave and frequent kingfish activity.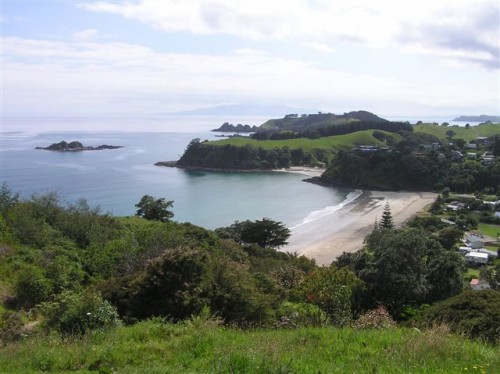 Palm Beach
White sands, safe swimming and good anchorage, Palm Beach is another of Waiheke's pristine northern beaches. Sheltered from the SW wind this sheltered beach has all day sun. 2 BBQ areas, 1 in the reserve on the far eastern end of the beach, the other right next to the great "pirate ship" children's playground. "Nudey Bay" is a small bay at the far western end of Palm Beach frequently used for nude swimming and sun worshipping.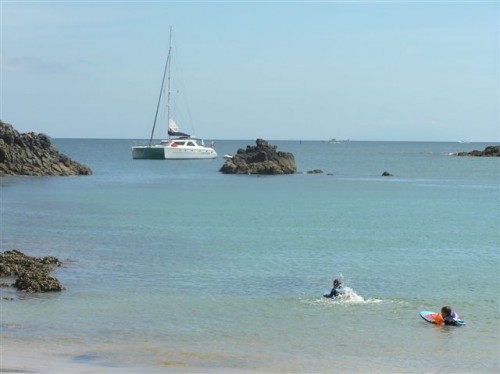 Garden Cove
Garden Cove is a sheltered, sandy, horseshoe-shaped bay approximately half way between Onetangi and Hooks Bay on the northern coastline of Waiheke Island. It is a popular picnic spot accessible only by boat or kayak.
Catus Bay
With pohutakawa trees growing out of the white sands, sub-tropical bush in the valleys, and clean clear waters to swim or snorkel., Cactus Bay is a must see. Considered by many locals to be one of Waiheke Island's most prestigous beach, Cactus Bay got its name by several Agavi cactus growing unusually on the western side.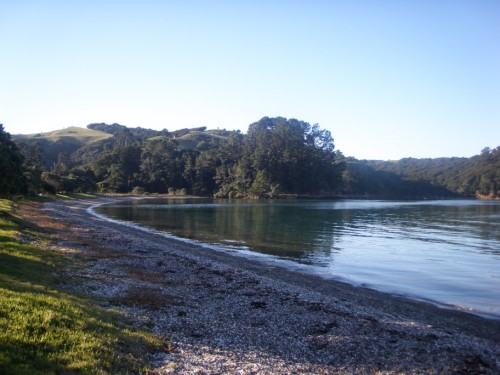 Man O' War Bay is located on the eastern side of Waiheke, commonly referred to as 'The Bottom End'. A popular bay for anchorage, Man O' War Bay is on the isolated side of the island. A Department of Conservation walking track leads up to the historic site, Stony Batter.
History
Captain Cook named Man O' War Bay after dropping anchor there on his 1769 voyage. He observed that the kauri trees growing there would make ideal masts for the Man O' War sail powered wooden battleships which formed the backbone of British naval supremacy for more than two centuries. Timber from Man O' War Bay is rumoured to have been used as masts for Nelson's triumphant fleet in the Battle of Trafalgar in 1805.
Thomas Maxwell built a timber and boat building station at the bay in 1836.
This post is tagged Anchorage, Bar Onetangi, bbq area waiheke, beaches on waiheke, boat launches waiheke, camp site waiheke, campground waiheke, camping waiheke, Captain Cook, Catus Bay, Charlie Farleys, child friendly beach, childrens playground, diving, dolphins waiheke, Enclosure Bay, gannet, Gannet colony, Garden Cove, Hauraki Gulf, Hooks Bay, island, kanuka trees, kid friendly beach, kingfish, kohekohe, launch ramps for boats waiheke, Little oneroa, Little Oneroa Beach Store, Man O'War Bay, New Zealand dotterel, Nikau Tours Waiheke Island, north side beaches, Oneroa, Onetangi, onetangi beach, Onetangi Beach Races, Orca, orca pods, Orcas on Waiheke, Palm Beach, picnic spot waiheke, Restaurant Onetangi, rock, Rocky Bay, safe swimming, safe swimming beach, Sandy Bay, Sea horses, sealife waiheke island, snorkelling waiheke, Stony Batter, taraire, The Beachfront Bar and Cafe, visitor information, waiheke beaches, Whakanewha, Whakanewha Regional Park, Wild Days Rum, Yachting on